Welcome to the 2017 Dwellworks Intern blog! Each week until mid-August, our summer interns will be blogging about their Dwellworks Experience and musings from the Internship Program.
Below are their thoughts from week five.
Read their blogs from week four here.
Jeff Britton | My Favorite Place to Eat Lunch
My favorite place to eat lunch is, without a doubt, the plaza across the street from the Dwellworks office. I am usually a "packer" when it comes to lunch, and I do not usually buy lunch downtown. But whether I pack or purchase, there is nowhere I would rather eat than outside on a beautiful sunny, or even cloudy day! Usually eating with some of my fellow interns, I always enjoy having the opportunity to be outside in downtown Cleveland and to experience this city and the people that make it.
Alex Leszcz | Interview With My Leader
Leader: Kelly Matune
School: John Carroll University
Major: Political Science, then received her MBA at Cleveland State University
What was your first job?
Kelly started here at Dwellworks the spring of her senior year, in an internship until she graduated. After graduation, she then became a full-time employee in the property management division.
Did you have other internships?
She worked in commercial real-estate and found out it wasn't the career path she wanted, however she still liked the real estate aspect of it.
How did you get into the relocation business?
Kelly originally wanted to go to law school, but found out that wasn't for her during her previously mentioned commercial real estate internship. She started in property management at Dwellworks, because she liked the real estate aspect of it. That's what really drew her in.
Why did you decide to work at Dwellworks?
Kelly liked the idea of working at a real estate company and had a couple friends who worked here. Her friends always said nothing but positive things about the company, which intrigued her. Dwellworks is also a popular workplace for John Carroll grads, and the "pieces fell into place."
Katharine Zavagno | Describing My Office Location Using Pictures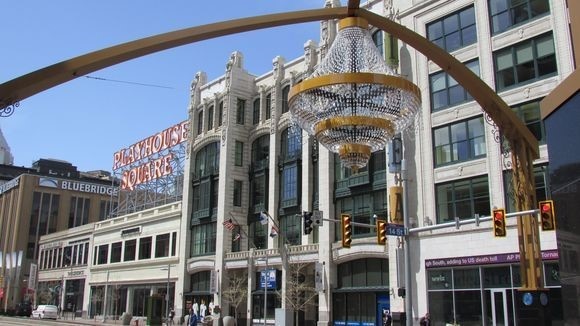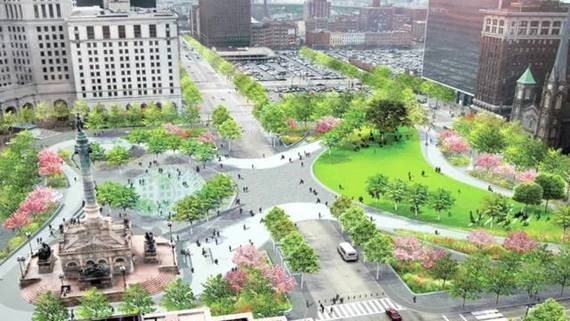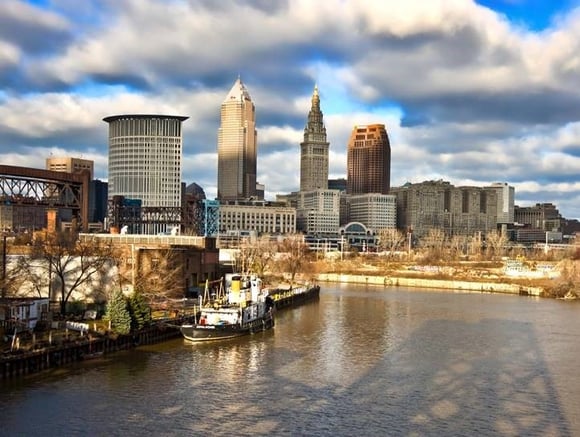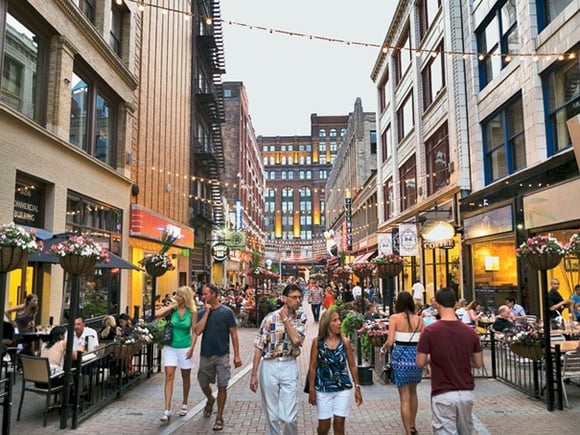 Dan Berghaus, Maggie Lowman, Leslie Flynn | Interview With Our Leaders
The marketing team at Dwellworks works together very closely to support the company. Since the three of us all work with the whole department, we decided to write this week's post together. We interviewed Suzy Benjamin (Director, Global Marketing), Jarod Miller (Content Manager), Ana Maikranz (Marketing Specialist), and Kim Hill (Marketing & Communications Specialist).
What is your background/education?
Suzy: I graduated from University of Cincinnati with a degree in Communications and attended Cleveland State University many years later for my masters in Project Management.
Jarod: I graduated from Cleveland State University in 2007 with a degree in Journalism and Promotional Communication.
Ana: I graduated from Tulane University in New Orleans in 2015 with a Marketing and Management double major.
Kim: I graduated from Michigan State University in 2011. My degree is in Creative Advertising, with a specialization in Public Relations.
What was your first job?
Suzy: I started at a small recruiting firm. There were about 10 people in the company, and I got to wear many different hats. They had me working with their website design and brand creation.
Jarod: My first job out of college was working as a copy editor, which was according to plan. At the time, I wanted to be a sports reporter and that job was my foot in the door. Unfortunately, it came at a time when print media was really struggling and, as it turned out, I didn't really like the job very much. So, when the opportunity to join the Appraisal team came along I jumped at the chance. I moved over to Marketing about six years later.
Ana: I interned at Dwellworks and did contract work with the company until I was hired full-time last April. Throughout college, I was always working to gain experience in a few different roles, including working in the baking and catering industries!
Kim: My first job, when I was 16, was at Mike's Carryout; I primarily made salads and assisted with food prep, as well as washed dishes. My first job after graduation was at Greenfield Health Systems in Detroit as a Marketing Coordinator.
What is your favorite thing about Cleveland?
Ana: I enjoy working in the city while having so many great parks to explore nearby. There aren't many cities where a national park is just a few minutes away. Cleveland is also within reasonable driving distance to many other major U.S. cities, including Chicago, Nashville, New York City, and Washington, D.C.
Kim: I love that Cleveland has a small-town feel, despite being a larger city. The positive change the community has undergone in the last few years has been fantastic.
What do you like best about your job?
Suzy: I like the people I work with, which is so important, and I like being able to do a lot of different things. If I started at an agency, I would have had a very specific career path, and it's easy to get stuck in one role. With corporate marketing, especially at a company this size, I get to participate in many different aspects of marketing.
Jarod: The most appealing thing about my job is the variety. In one instance I might be tapping into writing and editing and in another I might have to use layout and design skills. It keeps things fresh and exciting.
What do you wish you had done or known in college?
Ana: I am grateful that I chose to explore a new city (New Orleans) for college. The culture there is completely different from anywhere else in America and I absolutely loved the city and people. Looking back, I would have benefitted from taking another finance class at some point.
Kim: I wish I had been more involved with clubs and activities on campus. I also wish I had given myself the opportunity to travel abroad more during school. I was fortunate enough to go on a three-week-long seminar abroad in Italy the summer before my freshman year, but learning for an extended period of time in another country would have been an incredible experience. My advice to those in college now is to take opportunities: travel abroad if you can, gain internship experience, and join campus organizations.
What have you learned since starting at Dwellworks?
Ana: A neighbor once told me that the first year of your first professional job is mostly spent learning about yourself. It is important to take time to recognize your flaws and learn how to address them early in your career. In addition to exploring a new industry, I have learned about cultures around the world, website development, and brand management. Our team has been implementing a new marketing strategy together, which is an exciting challenge for all of us!
Kim: I've learned so much during my time at Dwellworks; the growing experience here is endless. I've learned how to properly optimize a website for search engines, the methods and ideas behind the Inbound Marketing strategy, and how to harmoniously work alongside members of a global team. I've also gained insight into the relocation industry, which I didn't even know existed while I was in college!
What was your favorite trip and what was something you learned?
Ana: I have been fortunate enough to travel to some very unique places so far. When I was 18, my family visited Egypt and that is one of my most memorable trips. The combination of traveling and working at Dwellworks has greatly broadened my perspective of other cultures. I've learned that Americans have very different focuses than people in other places. This was a valuable observation for me because it helps me understand stereotypes and values around the world.
Kim: One of my favorite places is Florence, Italy. I visited during my seminar abroad, and recently returned for vacation. The locals there remind me that life can be lived at a slower, more relaxed pace and that it's okay to enjoy life and its little quirks. I'd like to incorporate the Italian lifestyle a little more into my own life.
What advice would you give to young professionals?
Suzy: Do as many internships as you can. That's the most important thing. This is your chance to figure out what you want out of a career. Beyond that, make sure that you love what you do and enjoy who you do it with. Your skill set can translate in many different companies, but good people and culture cannot.
Jarod: Your two greatest assets in your career, whether you're interning somewhere or starting a job, are your adaptability and your availability. In today's business climate, you must be able to learn on the job and remain flexible with what you can do. The other side of that is making yourself available to the company beyond what's required of you. It's important to show you're willing to "go the extra mile" to earn the respect of your peers and supervisors.
We are grateful to work with such a talented, creative, and determined department. We have already learned so much and enjoy having Suzy, Jarod, Ana, and Kim as mentors this summer!
Aruni Prakash | What My Desk Looks Like
On my first day here, I was pleasantly surprised that I got my own spacious cubicle along with the rest of the employees. The space contained a personalized name-plate, 2 desktop monitors, a lamp, and my own phone. As I looked around at the different desks in the office, I realized that most Destination Services employees had little cheat sheets, notes, and calendars pinned to their walls as their decorations. Throughout the first week, Kat and I were trained on many different programs and created many notes ourselves. Soon, both of our desks looked like most of the other Destination Services desks, with pages of program tips and calendars on our walls. This way of decorating my space helps keep me organized and allows me to minimize mistakes by being detail-oriented
Hailey Atkins | Interview with My Leader
My internship experience here at Dwellworks thus far would not be nearly as enriching without my leader, Bethany Voss. Beth serves as the Supply Chain Lead Manager for the Northeast Region within Destination Services. This week I had the opportunity to sit down with her and inquire about her background and how got where she is today.
Beth's original plan was to pursue a career in interior design. However, after realizing the scarcity of jobs for interior designers, Beth became interested in property management. Managing two apartment complexes led to interaction with various Destination Services Consultants through RAI, the original Detroit based DSP that eventually became part of Dwellworks. She developed an interest in the relocation industry as a whole and decided to apply for a position with Dwellworks in Program Management. The moment she interviewed, she knew it was the place for her. She fell in love with the people, the corporate culture and the growth potential she saw. Beth joined just as RAI merged with 4 other companies to become Dwellworks.
She believes her customer service and critical thinking skills, as well as being self-sufficient helped her obtain the job and that these traits have kept her successful at Dwellworks. She has relied on these skills heavily throughout her years and various positions at the company.
To continue her growth and development, Beth gets involved; she volunteers for projects, runs a committee, sets goals and continues to educate herself about the industry. She is open to all experiences and opportunities for growth available. Beth believes in "Think, Act, Do" in order to meet customers' needs. Each year, she sets goals to not only meet Key Performance Indicators but to exceed them. Being a member of YP40 and subscribing to mobility magazines are ways in which she continues to challenge her professional and personal growth.
Beth sees the relocation industry eventually splitting into two diverse paths, and she sees Dwellworks changing to accommodate those paths; one, a virtual route with online tools and limited interaction where relocating individuals will help to manage their experience, and the other, a detailed concierge service, in which the consultant is more heavily involved. The second path mirrors what is happening with many RMC's today.
I asked Beth what advice she has for young professionals or those entering the workforce, like myself. Beth gave an emphatic, "work hard and don't give up." She continued on, "let your hard work speak for itself; don't be boastful and take all feedback as tools to shape your thoughts and work as you go forward."
Oona Haffey | What My Desk Looks Like
For the first week or so, I would always get lost finding my desk. The cubicles are set up in identical clusters so when I would come back from the kitchen or a meeting, I would have a hard time finding my cube. Now, a few weeks into the internship, I can walk to my desk with my eyes closed.
My desk is located on the second floor just before the second orange pillar. It is usually very organized—I keep my pens and highlighters lined up on the left and my pile of notebooks and papers stacked neatly on the far right. I have my framed pet award hanging above my phone and my bag tucked away in the corner. The desk is not too decorative because my aesthetic is pretty minimalistic. But, I do like to give it a little life. I have a neon green or Dwellworks green colored water bottle that always sits on my desk next to my Starbucks coffee mug. While my desk may look bland to a creative eye, it is my home.
Anna Zschuppe | Interview with My Leader
Although I didn't quote-on-quote interview my team leader, I had a casual conversation with her this week that applies to this blog topic. Morgan Phillips works in the human resources (HR) department with me and serves as both the HR intern point of contact and my leader. New to the team, she started working at Dwellworks in April 2017 and enjoys living in Downtown Cleveland.
I can't quite remember how we got onto the topic, but Morgan and I were chatting about different positions that relate to HR. She told me about how she served as a leadership consultant for Alpha Delta Pi after graduating from Ashland University. After serving as the president of her sorority's chapter and being on the executive board as an underclassman, Morgan wanted to give back to this organization somehow that she was so passionate about, so the position was only fitting. In her role, Morgan traveled to several universities throughout the nation to help chapters develop their recruitment processes and organizational strategies.
Interestingly enough, I am looking into entry-level roles that relate to HR consulting, so it was interesting to hear her perspective about the upsides and downsides of the consulting field itself. Although she mentioned that staying at sorority houses and bouncing from college to college with barely any sleep was extremely strenuous, she learned a lot about herself and her leadership style, including soft skills that would transfer to positions elsewhere.
After our conversation, I actually looked up leadership consulting positions on Indeed and found multiple opportunities that align with my interests! I definitely need to apply to those and give Morgan a big thank you.
To browse more posts about Dwellworks Culture, click here!
Back to Blog Listing