When visiting or relocating to a large city like Munich, trying to get a holistic perception of the city can require a lot of time... and money! Thankfully, there are several beautiful and historically significant attractions that are free to enjoy. Here are our top 5:
1. Explore the city's beautiful landmarks:
a. Marienplatz
Often considered the "heart of Munich", Marienplatz is a large square surrounded by gorgeous, Gothic-style buildings. Located in Munich's city center, Marienplatz is home to several markets, shops, museums, and churches. People often gather there to see the Glockenspiel, a large cuckoo clock-like mechanism of figurines, chimes, and bells, built in the side of the New Town Hall. Each day, at 11 AM and 12 noon (and 5 PM in the summer months), spectators gather to hear the music and watch the figurines act out two stories from the 16th century in a charming 12-15-minute-long display.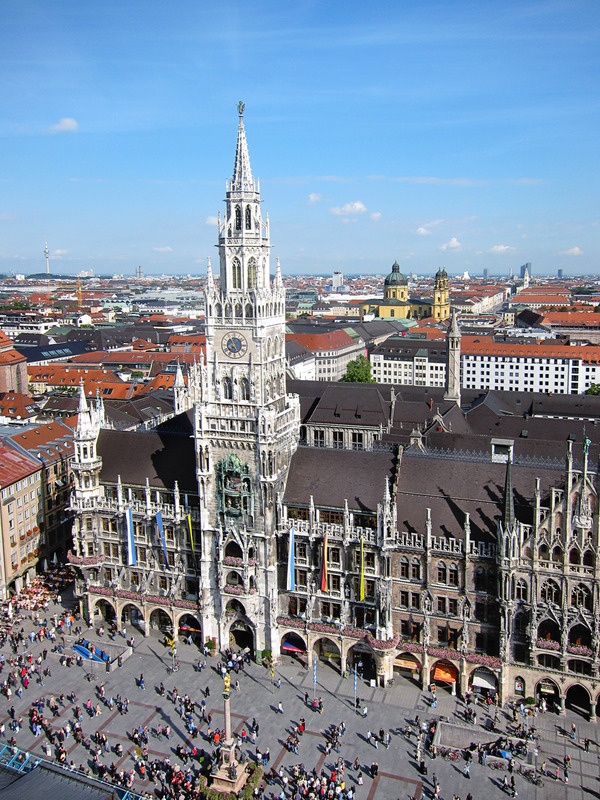 The New Town Hall at Marienplatz
b. The Isar River
The Isar River runs through Munich, providing a stunning stroll, swim, or picnic for the masses of people who enjoy it. Its winding shorelines extend for miles throughout Munich's metropolitan area and beyond, providing a beautiful setting for all those that pay it a visit.
c. Nymphenburg Palace
Nymphenburg Palace (Schloss Nymphenburg) is an impressive baroque palace that previously served as the summer home for Bavarian royalty. Now, it's a stunning example of wealth and grandeur that provides visitors with a glimpse into the lives of prominent figures in German history and extraordinary affluence. Although there is a fee to enter the palace, it's free entry for people under 18 and for all to explore the outside and walk around its remarkably manicured garden.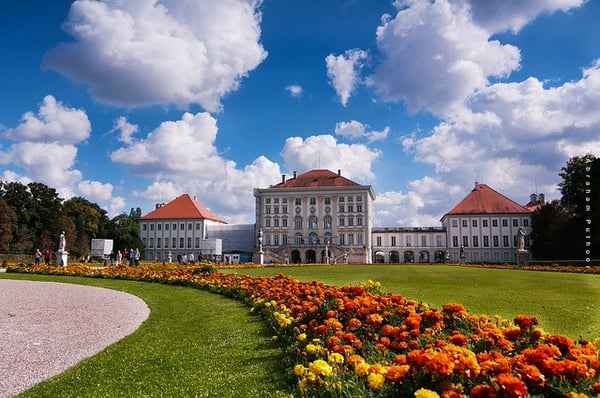 Nymphenburg Palace's exterior
d. Asam Church
Asam Church (Asamkirche) is a stunning Baroque church that draws masses of visitors due to its architectural and historical value. Asam Church's intricate ornamentation and heavy embellishment have made it a very popular landmark in Munich.
e. The English Garden
Another example of a beautiful landscape within Munich is The English Garden (Englischer Garten), a public park near the center of the city. The park is 1.4 square miles (3.7 km2) of open green space, trees, and streams that provide an outlet to withdraw from Munich's urban scene into nature. Not to mention, the English Garden is home to one of of the biggest beer gardens in Munich, with an approximate 7,500 person seating capacity.

The English Garden
f. St. Peter's Church
The oldest church in Munich, St. Peter's Church (Kirche St. Peter), is located just off of Marienplatz. Exploring the church's spectacularly decorated interior and exterior is free, but visitors can climb 299 steps up the church's tower to have a 360-degree view of the city for a small fee.
2. Oktoberfest
While it's a seasonal event, it's worthy to mention that Oktoberfest is free to enter. Every autumn, over 6 million people attend the approximately 16-day-long festival for the finest Bavarian beer, food, music, and dancing.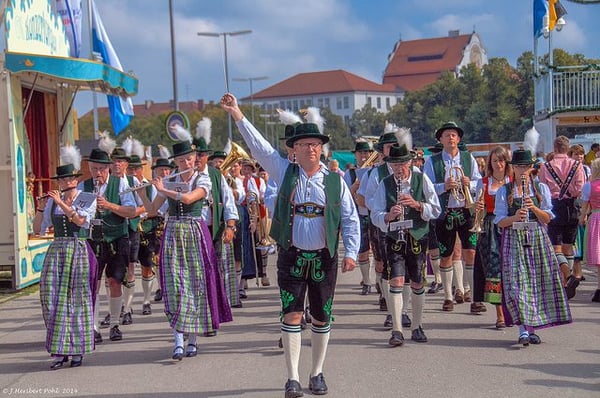 A parade during Oktoberfest
3. Free Walking Tours
Several companies in Munich offer free walking tours where participants explore the city on foot with an experienced guide. Most tours include prominent landmarks in the city, on which the guide can provide information that one might not otherwise learn by exploring on his/her own. When considering one of these tours, it's a good idea to look into them and book ahead of time.

4. BMW World
Car enthusiasts visiting Munich often prioritize BMW World (BMW Welt), where visitors celebrate and experience BMW Group's different brands, including BMW, MINI, and Rolls-Royce Motor Cars. There, guests can experience different exhibitions and activities, take a guided tour, dine, and visit the BMW shops. Even for those that automobiles don't enthuse, the building itself is a spectacular sight due to its grand, futuristic architecture.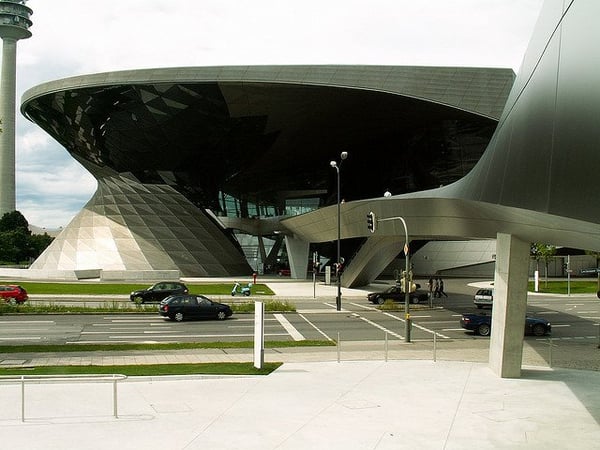 BMW World
5. Reduced museum entry fees
Okay, so some of them may not exactly be free, but many of Munich's museums are either a reduced price, 1 euro, or free to enter on Sundays, including the Pinakothek art galleries, Glyptothek, Bavarian National Museum (Bayerische Nationalmuseum), The Brandhorst Museum (Museum Brandhorst), and Museum of Man and Nature (Museum Mensch und Natur). Additionally, many museums offer free entry to persons under 18. For a full list museums with reduced entrance fees, click here.
Attractions located outside of Munich:
Just 30 minutes outside of Munich lies a large freshwater lake called Lake Starnberg. Many people visit Lake Starnberg to swim, take a boat ride, enjoy its shoreline, and take in the mountainous scenery that surrounds it.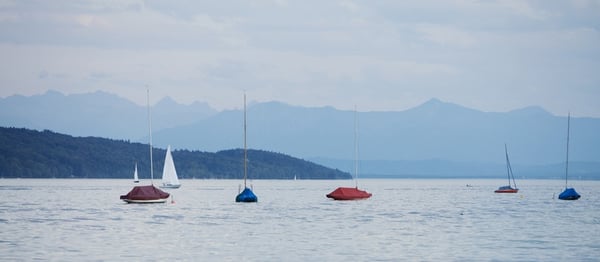 Lake Starnberg
Dachau Concentration Camp
Located 40 minutes outside of the city, Dachau Concentration Camp (Germany's first concentration camp) is free to enter. For a small additional fee, visitors can take a tour of the grounds, historical buildings and parts of the permanent exhibition.
Fairytales come to life at Neuschwanstein Castle, located approximately 2 hours outside of Munich. In 1869, King Ludwig II had this stunning castle built as a sanctuary to withdraw to from public life. Ironically enough, it has since become one of the most popularly visited palaces in Europe, thanks to its breathtaking, fantasy-like setting and enchanting, grandiose architecture. It is free to view the castle and for persons under 18 to enter. For more information about free entry and reduced admission charges, check out the castle's visitor information page.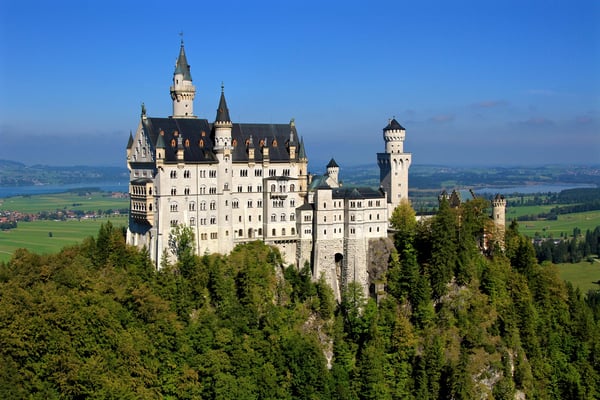 Neuschwanstein Castle
---
For more tips on visiting or relocating to Germany, consider reading our other blog posts:
Back to Blog Listing