Whether an employee is moving to a new state or a new country, the same core questions always seem to come to mind first:
'what is this place like?', 'what's the cost of living/housing?', 'where will I live?'', and 'does it suit my personal needs and those of the people moving with me?' When it comes to relocating for work, Dwellworks answers all those questions with our easy-to-use, incredibly intuitive resource portal for destination services, myDwellworks.
Dwellworks has managed the moves of over half a million employees to hundreds of destinations worldwide, at all stages in their careers, and at all different levels of housing budgets, expectations, and company policies. From those hundreds of thousands of information exchanges between customers and our 1,000+ local Consultants on the ground and with the help of our intuitive software, we've compiled all that collective know-how into myDwellworks, our digital content platform. We pair access to this rich content with an empathetic and expert local Consultant to make sure every employee's move is as tailored to them as possible.
How it Works
No employee in the midst of a complex relocation wants to hear, 'it's all in the system.' At the same time all employees want to hear, 'someone who's done this before can walk you through it all and give you access to all the resources you need for a successful move.' myDwellworks contains informative content for more than 125 high relocation volume metro areas around the world, ranging from features to help the employee plan their relocation step by step, to moving tips, to city guides they can access at any time on any device. All the included guides are curated and updated by our local in-market Consultants who work with our dedicated internal content development team. Each of the features explained below can be accessed from the dashboard on the left-hand side of the employee's personal profile. All this information is accessible 24/7, for a full year after move-in, and available in 100+ languages. Read on to understand what each section offers your relocating employees.
Planning Your Move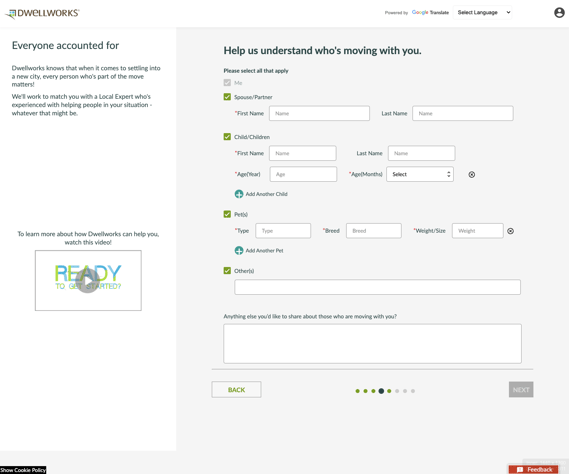 Home Finding: The first thing transferring employees are invited to do when their company partners with Dwellworks is complete a "myMove" document (one of several slides in this document is pictured to the right) sharing their own preferences and requirements, building on core demographic data we've already captured in our system. When the customer's information is completed, myDwellworks alerts their Consultant, who does a custom search to identify properties that match what the employee is looking for, drawing on their own familiarity with the market.
Every property listing includes multiple photos, a link to the property, and an interactive map to illustrate proximity to the work site and other important locations and services (as shown below). Within myDwellworks, your employees can comment on properties, like/dislike them, and request property tours, which their Consultant schedules and shares on a regularly updated itinerary. Also, as the employee's partner in destination services success, the Consultant is regularly searching and sourcing great options, while providing market updates and tips for what it's going to take to be a successful renter in the employee's new destination city.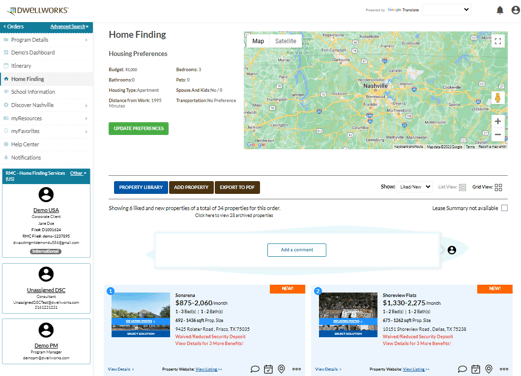 Dashboard and Updates: This is where the employee can see an outline of the services they'll be supported with and the status of each one. These services include things like viewing homes and property walk-throughs before moving in, school visits and registrations, and other settling-in services. Our Consultants talk in real-time with your employees (by phone, text, or chats in the portal) about their needs, preferences, and adaptations required for a move. If there are services added, approved, or requested, we'll track them here. Each dashboard is personalized to the individual experience.
Itinerary: This shows the schedule of all those services on a day-to-day basis so the employee can easily keep track of property visits, local appointments, and school tours. They can also filter their itinerary to show only property visits, for example, on their schedule for the coming days.
myFavorites: Employees on the move will access information in myDwellworks on a regular basis. They can bookmark helpful and preferred content in myDwellworks for easy access, which lands in this section. Consultants can do the same on the employee's behalf and will upload their own recommendations and local tips, favorites, and insights for the transferring employee to see.
Help Center: Your employee's personal Consultant will introduce them to the full suite of myDwellworks services. This section is an additional resource pointing users to a certain section or providing help with technical issues.
Notification Center: Here's where your global talent can quickly see what's been updated for them by their Consultant since their last visit to the portal and see any recent messages or reminders.
Pulse Checks: Throughout the service experience, we invite employees to rate their service and provide feedback through a smile/frown pop-up window (shown below) in myDwellworks. We use that feedback to take any immediate action required and to constantly improve the customer experience overall.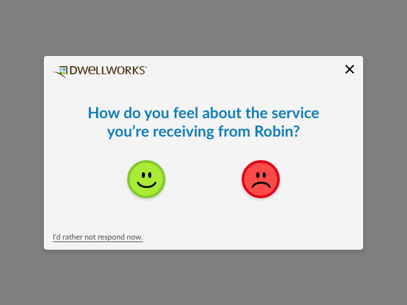 The "Discover" Section
Welcome to the "fun" section. Per the name, this section really helps your employee explore and take full advantage of all their new destination has to offer. Each section below is tailored to the destination city and the most common expectations of new arrivals, with guides curated by Dwellworks Consultants. See the list of features and what they assist with:
"At a Glance": This section introduces employees to their new hometown, sharing its history, some FAQs, and links to popular ways to get around town.
Neighborhood Guide: This is where employees moving to town can explore the different neighborhoods in their new city. They'll see an explanation of the general vibe of each area, plus commentary, suggestions, photos, and images that the local Consultants update regularly.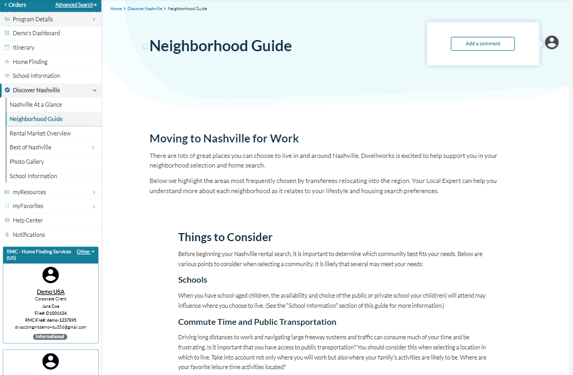 Rental Market Overview: We know that employees want to know the cost of living and housing in their new town. In this section, transferring employees can educate themselves on the average rent ranges for apartments and homes in various neighborhoods, with estimated rates in each neighborhood listed.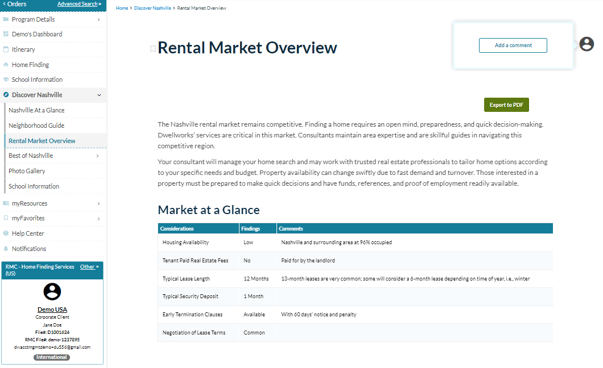 "Best of": Time to explore! Here, every employee can take advantage of our local Consultants' recommendations of the best things to see and do in their new area. Categories include food and drink, lifestyle, arts and entertainment, as well as shops and services.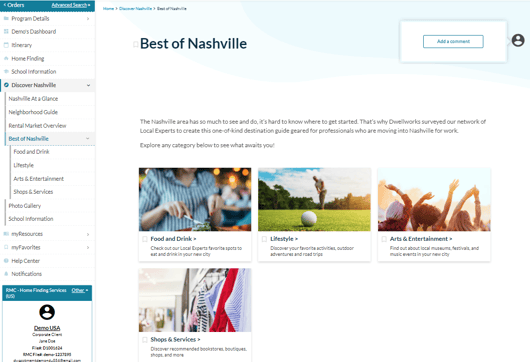 School Information: Employees with kids want to know what their options are. It's a high-priority and this is a frequently bookmarked section in myDwellworks. We preview schools to assist with home-finding decisions and to introduce the employee and family to the education options in their new neighborhood, including grade levels and whether the school is public or private. There are also helpful guides in this section with tips on enrolling a child in a school in a new area (including tips for international moves.)
The "myResources" Section
Any questions an employee may have about relocating can be answered in this section. It's chock full of guides for area orientation, home finding, and settling-in, all curated by our Consultants. Here's a breakdown of each offering:
How-To Guides: Here your talent will find step-by-step instructions for everything from applying for a driver's license to setting up a banking relationship and ordering utilities (or using our services to support these tasks.) The information is relevant and current for each destination location and only the relevant destination information is displayed for each transferring employee. Depending on where the employee is headed, for example, this section will include information on how to obtain an IRP (Irish Residence Permit) in Ireland, a social insurance number and health registration in Canada, a Declaration of Arrival in Luxembourg, or a social security card in the US.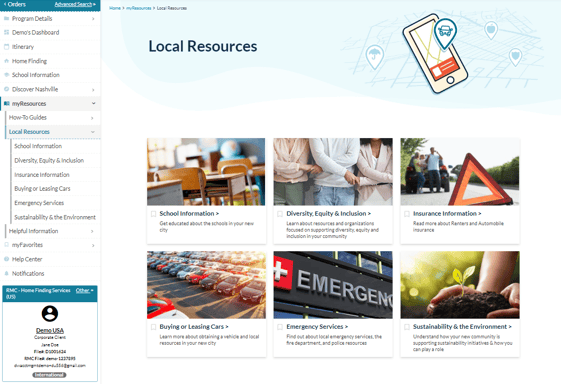 Local Resources: Here's where an employee can dive deep for their personal needs and interests and for services for those moving with them. The employee can find local links and directories for things like getting insurance, buying or leasing cars, and understanding local emergency services. We've expanded this section to include guides to advocacy organizations and sources to answer questions about diversity, inclusion, and family-oriented help. This is also where our Consultants have provided updated information on sustainability services, whether it's about local regulations, how to contact the local recycling center, or finding farmers markets and eco-friendly retailers.
Helpful Information: This section is valuable to all employees at virtually any time during their stay. Find guides on renting and leasing know-how, how to avoid fraud and scams, and for international travelers, what to know about your credit score. (Did you know a credit score doesn't travel across borders?)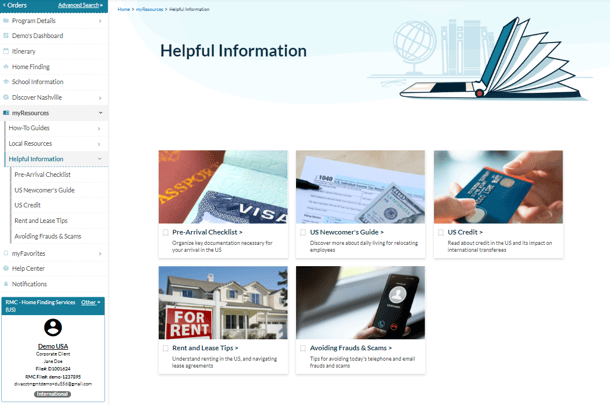 The best part of myDwellworks is that it comes with a real-life expert (your Consultant) to answer all your relocating employees' questions. They're on hand to assist virtually or in person, by text or chat, and before, during, and after the move. They're always just a phone call or chat in the portal away.
Want a great destination experience for your global talent? Connect them today with myDwellworks.
For more information or a demonstration, contact your Dwellworks Account Director.
SHARE THIS