Great Destination Services experiences require best-in-class, local Destination Consultants. Dwellworks Consultants meet this standard thanks to the outstanding work of our global Destination Services supply chain team. They are responsible for sourcing, onboarding, and supporting the Consultants whose performance defines our customer success and leadership reputation. Supply chain management, in short, is among the most critical functions at Dwellworks.
The last few years presented challenges, between slowed-down relocation activity and health and safety COVID-19 compliance requirements that varied from country to country and city to city. The disruption also provided an opportunity for continuous collaboration and innovation. Adding new Consultants and their experience has strengthened and deepened both the Dwellworks supply chain team and our global network.
For a look at how recent learnings have prepared the Dwellworks supply chain team for the active 'return to mobility' environment, we checked in with two key supply chain directors: Suzanne King, in EMEA, and Claire Hall, the director for the US and Canada.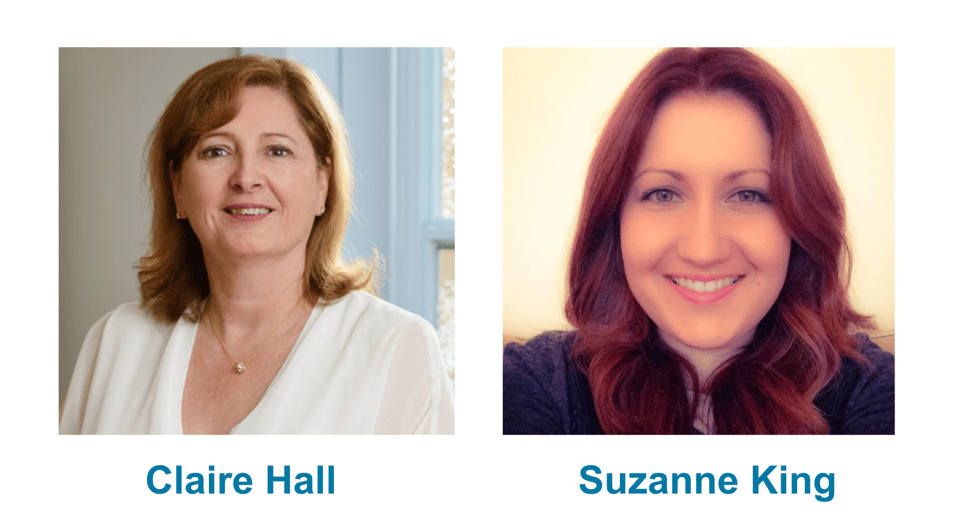 How are your teams and Consultants doing?
Suzanne: The EMEA supply chain team of 6 is doing great! I am immeasurably proud of everything the team accomplished in the uncertain times we've gone through together, frankly with one challenge after another. Our EMEA supply chain team supported our network partners throughout the last few years, helping them navigate changing markets and client expectations from the pandemic to the incredible surge of activity in 2022 with its wild rental markets and, unfortunately, the ongoing impact of the Ukraine/Russian conflict.
Having a front-row seat at a local market level allows us to provide our clients with best-in-class information, helping them guide employee expectations and relocation policies in turn. I am humbled by and grateful time and time again for the support and dedication that both our internal and external teams continue to demonstrate. It's clear we have a team that leads with service and looks for creative ways to be helpful, whether that's continually adding to our digital content to back up our in-person delivery or coaching our Consultants on how to deliver new flexible policies and practices, while still meeting the scope of work requirements.
Claire: Our US and Canada supply chain team is gelling wonderfully; we have a strong blend of experienced and recently added talent, and I'm happy about that. Dwellworks' business priorities are to 'simplify, optimize, and grow.' We want each customer's experience to be focused, productive, and personal. One way we are getting that in place has been to re-think how we use our Dwellworks University learning platform. It's been our go-to for self-paced instruction for Consultants for years, but we're now expanding that with live-stream training.
"This is a talking business. This is a people-delivered endeavor. These 'people to people' experts learn faster and engage more when we're on the platform together."
While the Consultants bring their core organizational and empathy skills to the job, the Dwellworks supply chain role is to enable their success through 3 core areas of focus: technology (becoming subject matter experts in the use of myDwellworks), subject matter training and development, and customer engagement, through mentoring and coaching. Our Consultants talk every day in real time to our customers, the professionals whom we're moving for work. We need to do the same, and we're all getting a lot out of it.
How's business faring in this post-pandemic world?
Claire: Costs have gone up in relocation as in all goods and services, and companies have budgets to manage while still wanting to get their global talent to where they are needed. 2022 was a good volume year, but it was a reaction to the very low activity of 2020 and 2021. 2023 volume levels reflect more caution, but it's also been a year of rental markets stabilizing and businesses figuring out their talent management strategies: who to move, who to hire, where to hire, and so on. In the US, we continue to add to our network coverage in response to shifting, client-driven needs, and in Canada, our core markets, places like Vancouver and Toronto, remain very active.
Suzanne: Business is faring similarly in EMEA. In Dublin last year, for example, we saw queues of upwards of 50-60 people waiting to see a single available apartment. In other metros, waitlists for appointments were at an all-time high and the application process was highly competitive and fast-paced. Demand outstripped supply in every location, literally from Amsterdam to Zurich.
The level of activity has tapered off a bit this year, but markets are still tight. We compete with local renters and with government policies that sometimes limit available housing options. Again, we've adapted – moving to a more flexible approach with appointment viewings by combining in-person and virtually accompanied appointments to ensure our assignees are getting their 'foot in the door' first. We also created housing desks on our internal service teams to support the property research process, working with brokers and agents even closer than before to get early access to property availability, and ensuring that critical market information for these changes is shared with relocation management companies and corporate employers to be sure assignees are prepped ahead of time.
What is the size and reach of the network now?
Suzanne: Globally, we are BIG! Today, we operate in more than 15 countries, with our supply chain teams managing over 1,500 network partners, including our Destination Services Consultants and Intercultural Training specialists. In EMEA we deliver Destination Services across the UK, Ireland, Germany, France, Netherlands, Belgium, Luxembourg, Austria, and Switzerland. We are fortunate to have a very talented Supply Chain team, managing and guiding our network partners across multiple service sectors. Our goal is to provide service consistency across the region while allowing for the nuances that come with operating in different countries. Contending with varying real estate laws and customs, training needs, and recruitment regulations, the EMEA Supply Chain team has a hands-on approach to managing their networks from both an operational and service delivery perspective.
How do you manage to be global and local all at once?
Suzanne: It's a careful balancing act. We want our service delivery to feel inherently 'Dwellworks' in its approach, but we must ensure that we are adding the unique flavor each location demands. We do this in several ways. Having dedicated country specialists helps us understand the complex cultural and market-driven nuances and legal environment. With that grounding, our Consultants can deliver the best possible service experience to our assignees.
We complement our hyper-local expertise with the globally consistent workflows and content accessed through myDwellworks. This ensures that whether a client is moving talent to New York, London, Munich, or Mexico City, the service will feel familiar, professional, and coordinated. Our Consultants help us curate content for myDwellworks, providing critical, personal insight into each location from rental market information to local things to see and do. Our supply chain team works tirelessly to onboard people who simply love what they do – showing their neighborhoods and cities, and who want to help new families enjoy life in a new location. Ultimately, it is our people who make our service feel local. Our business model provides the framework for the services we offer, but it's the people in our network who provide the service experience and value to the relocating employee and their families. That human touch is invaluable.
Claire: I was a Consultant myself for seven years. Here is how I like to put it: our knowledge is local and we support that on a global scale. Our Destination Consultants are critical for this. In states like North Dakota, South Dakota, and Idaho in the US and provinces like Alberta in Canada that are sparsely populated but have a concentration of relocation activity, we're banding our Consultants together in regional support teams. This will not only help the clients they serve, but it will help each Consultant build their strengths and share their success stories. That is our next goal: how do we take engagement to the next level? Having the Consultants feel connected to Dwellworks happens when they feel connected to each other.
How We're Doing- Service Feedback Check-In
Excellent customer service is paramount at Dwellworks.
That's why we are proud to share our YTD 2023 Destination Services customer feedback scores. We ask for feedback from customers in the middle of a move in a "Pulse Check", and again after they've settled into their new location in a more formal client-generated survey.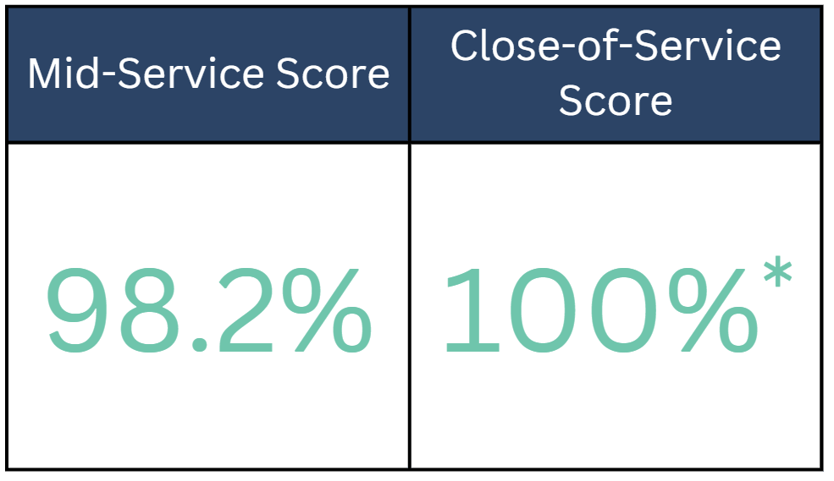 *Scores are an average round-up from our highest-volume global markets.
To learn more about the Dwellworks Supply Chain visit Dwellworks.com and read for our full report on Dwellworks Living Supply Chain updates from Director Debbie Woodley, here.
SHARE THIS