Last week, the Intercultural Services team at the Dwellworks headquarters in Cleveland welcomed a member of our team, Patricia Cheow. Patricia is an intercultural trainer from Singapore traveling the US on vacation. As part of her trip, she visited Cleveland and spent the morning meeting our team in-person for the first time.
Singapore is a small city-state, island nation. Throughout its history, Singapore has been occupied by Britain, Japan, and Malaysia but gained independence and became a sovereign nation in 1965. Today, Singapore is a fascinating melting pot of cultures. The citizens are multilingual, multicultural, and passionate workers who have contributed to Singapore's economic status as an Asian Tiger nation.
Patricia, like many other Singaporeans, is dedicated to her work. Not only is she a great Singaporean Resource and Youth Trainer and she is primarily a concert pianist/organist. Patricia is an accomplished musician and even puts on plays in Singapore with close friends. While enjoying the stories of Patricia's many skills and interests, the Intercultural Team learned many interesting things about Singapore and one another…they discovered that several of the Intercultural managers also play musical instruments!
Patricia is a well-traveled trainer and has been able to visit most of Asia, Europe, and the US. As she entertained the team with stories from her recent trips around the world, the team noted, it wouldn't be a proper intercultural visit without plenty of discussion on cultural differences. For instance, Patricia told the team that in Singapore, gum chewing is frowned upon (similar to the equivalent to smoking cigarettes in the United States). Because of this, people have to cross the border into Malaysia to buy gum!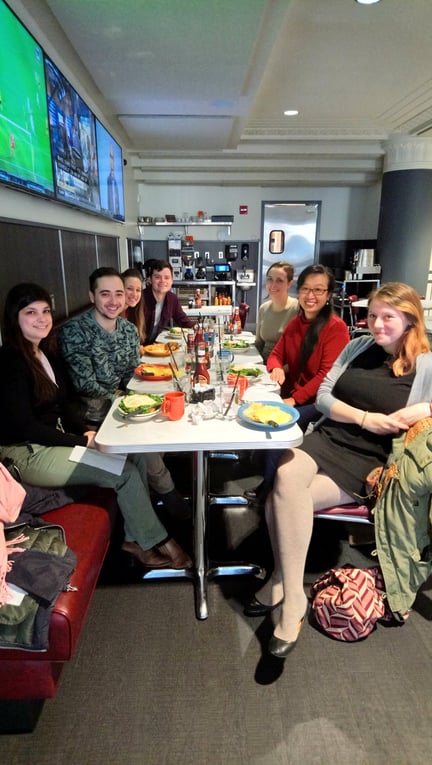 The team also discussed the difficulty of learning a new language when first arriving in a new country. Sometimes, it can make you feel self-conscious when you are struggling to communicate. Between them, our Intercultural team speaks many different languages and have experience living in countries around the globe. Both Patricia and the team emphasized the importance of learning about and experiencing other cultures since intercultural training can lead to great understanding among people!
Meeting with Patricia was certainly a pleasure for the team. Having the opportunity to meet with a trainer is always a treat for the Intercultural managers since the consultants they work with are not only in-the-field but can be based in a time-zone 12+ hours away from the Cleveland headquarters. Sometimes the time difference is so great that a manager will rarely have the opportunity to speak with the trainer by phone, so meeting them in-person is a wonderful experience they rarely get to enjoy.
Patricia left us with the strong impression that she is a citizen of the world and she truly enjoys helping transferees learn about and adjust to Singaporean culture. Thanks for stopping by, Patricia!
SHARE THIS