Dwellworks CEO Bob Rosing recently returned from a trip to Singapore and other locations in APAC. He reports here on the progress our company has made in the region, including opening a new office in Singapore. Off his first trip to Asia since the COVID-19 pandemic, he shares his excitement for the region's future.
"The market's got huge potential. Like we've always done, we've put the right people in the right place, at the right time, we've done that. We're going to win."
When asked about my biggest take away from my recent travels, that quote above is what comes to mind. I visited several cities in APAC, including Dwellworks Living's regional headquarters in Singapore, a client visit in Kuala Lumpur, and the FIDI Conference in Bangkok. I firmly believe our team is well positioned to take full advantage in this bustling sector.
Our New Office
A highlight of this trip was visiting the recently opened Dwellworks regional headquarters at 111 Somerset Road in one of Singapore's key commercial areas, as you see in the photo below. In 2022, we managed nearly 200% more corporate housing bookings there than in 2021. Our trend for 2023 reflects a continually expanding need for short term accommodations for business travel and relocation-related customers in Singapore and throughout Asia Pacific and hence our investment in talent and office space.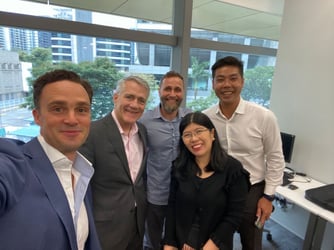 Singapore is our regional hub for managing corporate housing across APAC, but it's also our largest single market, responsible for nearly a third of our bookings in the region. In Singapore, we have a team of 20 servicing all of APAC with supplier development, account management, financial services, and accounting for 40+ regional and global clients. Many of these employees already worked together at another major corporate housing provider, meaning they already have great rapport and have hit the ground running. I am excited to see these veterans and their new colleagues learn from each other, as we've done at Dwellworks time and time again.
Post-Pandemic Trends
This was my first visit to Asia since the COVID-19 pandemic surged across the region. While across Asia Pacific cities are opening back up in many ways, the trends within global mobility have changed. Clients and their customers are thinking carefully about where to do business and where to live in APAC. Places like Singapore and Hong Kong are benefitting from this trend with fewer restrictions in place. This year, we're seeing more requests for housing information in Hong Kong, and are setting our sights on the growing need in China as more people live in cities like Hong Kong, and travel to their work site destinations and assignments across China.
Corporate employers in the region are also seeing fewer traditional, long-term assignments for expats and their entire families. Before the many changes brought on by the pandemic, it was more common practice for professionals being relocated for work to bring their entire families and establish 'work and daily life' in their destination city. Coming out of COVID-19 conditions, fewer companies are initiating this traditional arrangement, both for reasons of cost and for supportive management of key talent. Employees in the region are also choosing to travel from their hometowns rather than disrupt their families. This means more short-term assignments, extended business travel, and project-based work and a greater need for temporary accommodations recognizing multi-week or multi-month stays.
Importance of Duty of Care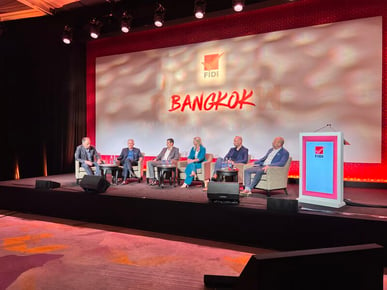 Though Dwellworks always puts duty of care at the forefront of the services we provide, this trip showed me just how important that requirement really is. While we manage the service experience overall, our local suppliers are an extension of Dwellworks and Dwellworks Living, and they are the ones working day-in-and-day-out with our customers. Similarly, at the FIDI Conference in Bangkok that I had the pleasure of attending, the business focus was on international moving but the customer focus on duty of care was center stage.
Our supplier network in Singapore and across APAC is particularly strong. In the past two years we've added 24 corporate accommodations partners in Singapore, Sydney, Shanghai, Tokyo, across India in Bangalore, Hyderabad, Chennai and more. I had the pleasure of joining our Singapore-based regional supply chain manager Devi Vibin and several of our team in presenting a Partner of the Year Award to our service partners at Frasers Hospitality. There are so many partners worthy of this award, but the pride on the faces of those at Frasers was very cool to see.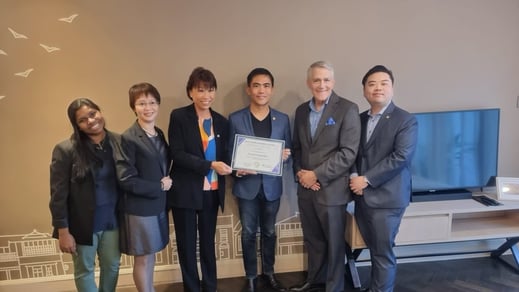 Speaking of hospitality, I could not have fully appreciated these updates in APAC without the care of so many people during my visit. One of the best meals I had on the trip was courtesy of Po Kay Garber, the wife of Regional Director, Scott Garber, who made a multi-course traditional Singaporean meal that I am still savoring. Living like a local, from taking the subway to trying chilli crab, were also highlights for me. I promise anyone with the opportunity to visit Singapore, for work or leisure, an experience they will not forget.
SHARE THIS