Expanding your company's business travel to China? Work with an experienced in-country partner to get the benefit of comprehensive business accommodation options and tax-savings through local or international billing.

An earlier version of this blog was published in January 2021.

With all pandemic travel restrictions limited, China is now finally open again for international business. As multinational corporations re-enter China from a workforce relocation and business travel perspective, they are looking at new needs and new services for their mobile professionals.

For close to 20 years, Dwellworks and its legacy brands have delivered market-leading services in over 20 distinct locations in China, including secondary and tertiary cities, through an established on-the-ground real-estate services network and a tailored customer service model. With the launch of our Dwellworks Living corporate housing solutions business in 2020, we have expanded our capabilities across China and offer support to clients interested in growing their business in the Asia Pacific region. With our unique services and operational assets, we can offer both excellence and expertise in local markets and potential cost and tax savings for corporate clients.

Recognizing new customer needs

Our research has confirmed that for many of our clients China is a growing, coveted, and complex market. China is the world's second-largest economy — but the serviced apartment market on the ground is still in its early days compared to other regional hotspots. As China continues to grow again, with an expected 5% GDP rate in 2023, the serviced apartment/temporary housing market will expand accordingly. It is also important to note that while international travel into China was severely restricted during the covid period, domestic mobility and business travel continued, allowing many suppliers and vendors to fine tune their offerings in anticipation of the post-pandemic demand from both domestic and international travelers.

Our business is focused on supporting the housing and related support services needs of the globally mobile workforce. Historically, in China, Hong Kong and elsewhere, these services have been offered to executives and senior professionals, who would experience temporary stays in superior quality accommodations, before transitioning to long-term rentals, typically with families who joined them on assignment. Along the way, much has changed.

Instead of executive moves, long term assignments, and 'expat lifestyles,' global business is now increasingly built around frequent business travel and shorter-term assignments. Families may choose not to move at all, and thus the global traveler is working more on a project-focused, temporary basis but still with the need for safe, secure, comfortable, and affordable housing. This changing dynamic in global workforce mobility pivoted us more towards corporate housing solutions that leveraged our destination services heritage.

Typically, a corporate client searching for a hotel alternative in China will default to internationally branded serviced apartments or apart-hotels. Historically, the choices have been predictable and limited, even in markets as big as Beijing and Shanghai, much less in lower-volume second and third-tier locations. Housing solutions operators who do not have feet on the ground in China are typically not able to source alternative solutions and if they are, they are faced with complex booking processes, including landlords often not able or willing to accept payments from outside of China.

Fapiao cost savings + unique property choice solutions

An essential part of Dwellworks unique temporary housing solution in China was the establishment of a new legal entity. With multiple years of business experience on the ground, we were able to patiently and compliantly work our way through administrative and documentation requirements, resulting in 2019 in the approval of a full real estate and property management license as a Wholly Foreign Owned Enterprise (WFOE). Amongst the advantages of the WFOE license, we gained the ability to bill in international and local currencies along with the capability to issue Special Fapiaos.

Fapiao is the Mandarin word for an invoice, and they are produced by a regulated invoice-issuing system. A Regular Fapiao can deduct an expense against revenue while a Special Fapiao can post expenses against revenue and the Value-Added Tax (VAT). Without a fapiao in a transaction, the expense does not exist from a taxing perspective and therefore the expense cannot be recognized as an expense against a Chinese entity's revenue.

Having the ability to issue a Special Rental Fapiao meant our Corporate Housing partners could place their bookings through us and invoice companies in China directly to receive sought after tax-break benefits. Altogether, this model has been proven to allow some companies to achieve total tax savings of up to 30 percent of their Corporate Housing costs, making the product extremely appealing to firms operating in China. Furthermore, our business in China is now also enrolled in the new e-fapiao system and is able to issue VAT invoices electronically, making the billing process on the ground even more efficient.

Dwellworks Living is a global provider of accommodations solutions, matching client needs with superior supplier offerings on a global scale; we also recognize that clients may have a need for bespoke or matched-lease solutions if supplier inventory does not have the exact offering the client is looking for. This is where our real estate experience makes the difference.

Leveraging years of market research and landlord negotiation experience for long-term rentals, Dwellworks Living is able to source private landlord solutions, in China and Hong Kong to supplement the core offerings of our high-performance supply chain partners.

We have an offering with a wide range of local serviced apartments on a matched-lease basis in over 25 cities in China and Hong Kong. These serviced properties are locally owned and managed by local professional hospitality brands, offering great value and outstanding service for our clients. These much-sought-after properties are not marketed internationally and are often only accessible through trusted relationships developed between local owners and their local-language speaking Dwellworks agents and destination services consultants.

At present over 50 percent of our property mix is made up of these local brands offering clients convenient access to properties previously unknown and inaccessible to them.

Combining this superior local real estate knowledge with the financial value of our fapiao administration creates a truly differentiated advantage for employers with temporary accommodations needs in China.
An epic™ investment
Dwellworks Living sources and manages 3,500 select global supplier partners and 50,000+ individual units on our epic™ platform. This industry-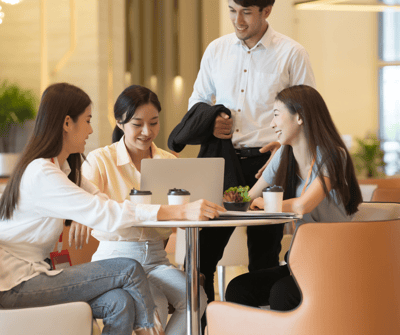 leading application enables us to streamline and simplify temporary housing program management on a global scale. Clients needing housing in Shanghai, Hong Kong, and Singapore… as well as London, New York, Mexico City, Dubai... and hundreds of other locations worldwide, can coordinate all those searches with us through the epic™ platform, with Dwellworks Living as a global partner.
As in China, so too around the world. Our local real estate experts can source unique private landlord listings based on years of market experience and they can enrich even a short-term assignment with expert local orientation and cultural adaptation services. All Dwellworks Living guests also receive free access to our local 'best of' app, Xplore, which contains insights for must see shopping, restaurants, sites and 'live like a local' tips, all curated by our on the ground experts.

As we learned in pairing a WFOE and fapiao capability with our core real-estate related services, there is ample opportunity in the fast-growing China relocation and business travel services market to innovate and differentiate with creative solutions. Creating a differentiated solution requires investments on the scale Dwellworks Living has committed to in funding, research, compliance, systems, and people. Contact us to learn more about our China corporate housing solutions.

Moving your talent to China, Hong Kong or elsewhere in APAC? Read our regional business travel and relocation blogs here and contact us at where to create a customized corporate housing solutions for your business needs.
SHARE THIS