This article was originally posted by Nicole Barile, the Director of Intercultural Services at Dwellworks. To view the original post on Pulse (via LinkedIn), click here.
Whenever anyone asks me why I love to travel, the three same answers keep coming up: food, music, and dance. One of my favorite things is to connect with people, and what better way to do that in another country than by immersing yourself in the culture and being a part of it? When in Lisbon, see a Fado show. When in Argentina, take a tango lesson. When in Paris, join a cooking class. This helps you connect with the culture and with people that you would not otherwise meet - people that may become life-long friends, tour guides during your time abroad, or just a contact for one day. There are even organizations created for the purpose of eating a local meal at someone's home while abroad. Come Cook and Eat, for example, connects travelers to locals in order to share a home-cooked meal.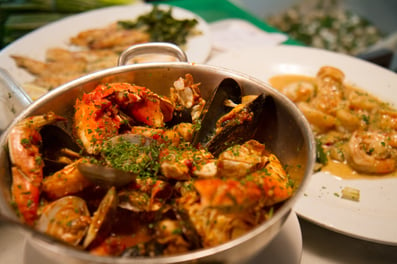 Food has always been one of my favorite connectors to a culture and one of the easiest ways to learn about a country. There always seems to be a story or tradition behind a specific dish that teaches you something about a country's history. It's said that food is a window into another culture, and, some would argue, a means of promoting diplomacy between nations. The role of food in diplomacy, also known as gastro-diplomacy or culinary diplomacy, became popularized in the early 2000s and has since been embraced by governments and people around the world. In 2012, the United States launched the Diplomatic Culinary Partnership, which sent chefs from country to country as a means of promoting US culture. This cemented the idea of using food as a way of connecting and engaging with other countries.
In an article published in Public Diplomacy Magazine (Winter 2014), Braden Ruddy reveals a study conducted to find a correlation between a country's national cuisine and its national image. In other words, can food change public perception of a nation? The findings were quite interesting. 55.71% of respondents stated that eating a country's food has changed their opinion of that country in a positive way. 84% of respondents said they would consider traveling to a new country based on its cuisine (Ruddy, 2014). Food can connect people, and its power to do so should not be underestimated.
More and more restaurants have been opening their kitchens to refugee chefs. While perhaps not always the main goal, this serves as yet another way of promoting cultures and understanding through food. Whether it is a government initiative or promoted by the people, gastro-diplomacy plays a critical role in cross-cultural understanding and is something that everyone can be a part of.
What is your favorite memory of a meal in another country? Did food help you understand more about the culture? Leave a comment below!
Back to Blog Listing