We interviewed Dima Lorenz, Dwellworks Vice President, Global Account Management, Asia Pacific, to get his perspective on the region from recent client conversations, service team experiences, global mobility trends, and mobility industry conferences.
In this two-part blog, we'll get Dima's thoughts in Part One on the overall market and key trends, followed in Part Two by a look at key markets, including Singapore, Hong Kong, mainland China and emerging economies.
What's the mood in APAC right now in terms of business conditions and specifically hiring/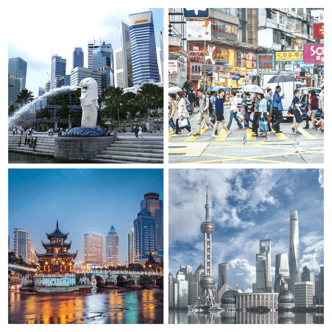 expansion/relocation?
Well, generally speaking, we have seen the mood among our clients and partners in APAC improve noticeably over the last months – to the extent that I would call the atmosphere positive and encouraging, despite of course the looming possibility of global recession, extended global conflicts, and the potential of new pandemic waves.
For now, though, there appears to be a general consensus and excitement that we are finally approaching the much-awaited post-Covid era, and that a rebound in travel and mobility is well on its way.
Many companies have re-started their hiring processes, re-kindled their intern and graduate programs and are re-deploying their workforce on long- delayed projects across the region.
Regional conferences, (like the recent FEM event in Singapore), have started up again and participants seem delighted to be meeting with clients and peers. In addition, there are significant global events that have made their return to Asia – for example, the first F1 race in APAC, the upcoming G20 Summit in Bali, and the Bloomberg New Economy Forum 2022 in Singapore.
These are all good indicators of strong confidence for growth in the region.
What is the Q4 narrative for relocation and mobility? What are you hearing for 2023? 
While many of our clients have started to re-engage their pre-Covid plans and mobility projects, obviously that is not the case for everyone. There is still a bit of hesitation regionally, overall, as a few markets are still strongly impacted by Covid and the corresponding government measures.
The hope, obviously, is that the markets that are lagging – most noticeably China and Hong Kong – will be able to implement an exit strategy over the next months and join the rest of the region in the recovery.
With this, all eyes are on the People's Congress this week, which will hopefully bring some further clarity on how China will manage Covid going forward and whether the government will continue with its current Dynamic Zero-Covid strategy. Hearing Xi Jinping's opening speech yesterday it looks as if this will most likely be the case, which at least gives us all some clarity.
Once the way forward for China and Hong Kong has been confirmed, there is generally quite a bit of optimism in the region – at least in the mobility area. A lot of corporations are already extremely busy as it is, and adding China/Hong Kong back into the mix at a later stage will keep RMCs, Destination Service Providers, Temporary Living operators, and Corporate Mobility Managers more than occupied over the next year.
Needless to say – there is also a lot of caution and worry about the impact of any potential global recession, acceleration of trade conflict and slow-downs, as well as fears about escalations relating to Taiwan or Korea.
Then again, these worries seem to loom continuously on the horizon, in the mix of external factors to consider when looking at Asia Pacific.
How do trends differ between key markets?
Australia, Singapore, and India are leading the way by having moved beyond almost all Covid mandates and quarantine requirements. Some regulations still exist, but none are considerable enough to deter a pick-up of mobility.
Singapore, for example, allows for free entry of vaccinated travelers, so does Australia and in both locations, masks are only required in very limited circumstances.
Not coincidentally, these key markets are also expanding their visa programs, to develop themselves as high-tech, investment-ready centers of excellence. It is almost business as usual in these locations – which is what everyone had hoped would happen.
Other APAC hotspots, such as Vietnam, Thailand, Taiwan, and Japan are following closely in their Covid evolution and have either already fully dismantled quarantine and arrival restrictions or are in the process of doing so in-mid October.
As mentioned, the big elephant in the room continues to be China and by extension Hong Kong, which previously were the region's largest international mobility destinations.
As is well known, China continues to pursue a 'Dynamic Zero' Covid policy and is enforcing strict entry and quarantine requirements – together with sporadic and far-reaching, regional lockdowns. Our team in Shanghai has regularly experienced these temporary lockdowns over the last months and can speak from experience on the disruption to daily work and home life.
It's a heavy burden to carry when you know the rest of the world has come to terms with the virus in different ways.
Hong Kong has very recently taken further steps to re-open and has implemented a new 0+3-day policy for new arrivals, which was long-awaited and welcome news. The new regulations mean that vaccinated arrivals now only need to isolate at home or at a hotel for three days under self-observation, before being able to freely move about the city.
This comes as a much-anticipated lifeline for many businesses and companies that rely on international travelers and the hope is that these regulations will reignite Hong Kong's status as a regional travel hub.
In order to support this reemergence, Hong Kong's flagship carrier, Cathay Pacific, and the Hong Kong Tourism Association have pledged to give away over 500,000 free airlines tickets to get visitors back into the city over the next several months.
Some have gone as far as to speculate that the changes in Hong Kong may be a blueprint for potential changes coming to mainland China, but I personally would not hold my breath on that. It increasingly looks as if the Covid-19 response of these two markets will develop independently of each other for the next months.
What is the trend for regional and domestic relocation within APAC?
Domestic mobility is certainly a very hot topic in the region right now – in particular for India and China.
Where traditionally global mobility has been defined (and serviced) for 'international assignees' from Western markets into APAC, we are now seeing mobility virtually in every direction – inbound, domestic, intra-regionally, and certainly also an increase in outbound movement.
Bear in mind that among the global Fortune 500, the largest group, over 40% are now based in APAC (with over 140 of them in China alone) and these companies increasingly have a truly regional and global workforce.
The willingness to move regionally – or even outside of APAC -- has been further accelerated by the Covid response in a number of markets. Taking China an example, we have seen a noticeable increase of high caliber talent that is now willing to discuss and consider assignments abroad.
Previously much of this talent saw their future in China, where they had their guanxi (connections), their children were enrolled in great local schools, and they saw long-term economic gain.
Over the last 2 years some of this perception has changed and our clients have reported that they now see an increased level of interest from these same candidates being more open to opportunities abroad.
On a purely domestic basis, mobility also seems to be increasing with more and more companies expanding locally, especially in larger and evolving consumer markets like India, China, and Indonesia.
As domestic purchasing power increases so does the need for companies to expand on the ground and that expansion obviously results in mobility needs for local talent.
The current challenge – and a future opportunity – is that many of these companies have not yet engaged in formalizing their domestic mobility policies.
Only a small fraction, an estimated 20% of companies in APAC, appear to have put fixed domestic mobility policies into place, leaving much room for engagement and solutions support over the next years.
It's a good lesson for traditional service providers – as the market shifts, we'll see new service needs and new ways to meet them.
To learn more about emerging trends in APAC Mobility, check out part 2 of our blog series at www.dwellworks.com/blog.
SHARE THIS