Part Two of a Two-Part Series on the US Rental Market
When we last checked in on the US rental market in August 2022, summer season rental activity levels in relocation were back to, and in some cases exceeding, 2019 levels.
In June, July, and August, the number of new requests we received at Dwellworks for rental home-finding assistance, within the US and inbound from international locations, were all at 100% of the 2019 volume.
Relocation activity tends to be to major employment centers and the trend remains that in the core US locations where our clients send employees, demand and prices are still high, although the rate of increase has flattened in most rental markets. There is light in the rental tunnel, in other words.
In terms of availability, the vacancy rate nationally is between 5.4%-5.8%, but there are some notable exceptions like Boston and New York City, where supply is even tighter.
In other markets, like Nashville and Northern Virginia, new housing developments are helping ease some of the pricing pressure.
A mixed but improving picture.
As one economist noted, "rental price growth has continued to moderate…to the pre-pandemic (month-over-month) pace of .5%." That's the national average for the rate of increase. In many locations, and preferred neighborhoods in those locations, where demand remains high and supply is tight, the rental rates continue to climb, even if at a slower pace (see chart below).
The Federal Reserve's policy of increased interest rates is also having an impact. In attempting to bring down inflation overall through higher interest rates and a slowdown in consumer spending, the number of people who are in the market for rental housing increased, since they are priced out of home buying under current conditions.
Most economists expect the trend of tapering rental increases to continue through the end of 2022.
Who's the typical relocation renter now and what do they want?
In the not-too-distant past, it was reasonable to expect a transferring renter to be a young, recent college graduate or early-career professional, more than likely single, usually male, and moving without accompanying family.
This certainly still describes a segment of today's population but increasingly, we see a diversifying mix of renter profiles pushing the boundaries of these assumptions.
As seen in recent rental market trends, today's renter is just as likely to be:
A mid to late career professional who is relocation savvy, moving with a family and renting as a matter of personal choice rather than economic necessity.

Departing to a higher-cost urban market rather than a university town.

Choosing to rent at their destination given the barriers to purchasing a home because of high housing costs, high-interest rates, limited inventory, or all the above.

Renting deliberately in anticipation of moving again within a short timeframe, often following a corporate-sponsored short-term or rotational assignment.

Seeking destination housing that complements lifestyle preferences, often influenced by the impact of the pandemic, remote work arrangements, and/or stage of life considerations.



Common with consumers of most services today, renters have a diverse range of expectations for the delivery of rental assistance services anywhere along the continuum of low touch/self-service to high touch/full-service models.
This consumer culture-driven mindset challenges the tendency of mobility policies to sometimes associate high-quality or top-tier levels of rental assistance services with high-touch means of service delivery.
In other words, today a renter may be assigned a policy-driven low touch/ limited self-service experience yet be of a profile and mindset that demands accessible, well-curated, personalized choices and a high-quality technology interface.
Conversely, an upgraded, quality self-management approach is no longer synonymous with a low level of support or scaled-down access to resources.
A renter interfacing with online information about housing options may still expect a high degree of virtual handholding and will expect a high degree of content quality and local expertise.
Further, in an era that promotes the values of diversity, equity, and inclusion, mobility policies and programs focused primarily on homeowners, or 'single person, minimal support needs' for renters can seem unaligned and unsupportive.

Why should supporting today's renter be a top talent goal?
An examination of renter demographics and the evolving rental market landscape reveals what they value most in mobility opportunities.
Renters' expectations of mobility services are increasingly synched with the mindset of consumer culture in general and a strong preference for empowerment to flexibly navigate highly personalized choices.
The best solutions are often those that are highly customized while also sensitive to the budget constraints and outcome goals of business stakeholders. Tools, training, and technologies are now in place to align these goals that once seemed in conflict.
In US rental markets like those mentioned below, relocating employees have high expectations for housing quality, size, choice, commutability, and environmentally friendly upgrades.
Destination Services providers like Dwellworks coordinate this information, curating web-generated listings and other property research with their expertise, market familiarity, and deep relationships with property managers, landlords, and real estate brokers.
With limited time to source housing, settle in, and start new assignments, professional assistance, offered both in-person and digitally, supports informed, realistic decision-making by employees, who would otherwise have to sort options and coordinate property viewings and landlord appointments on their own.
Most markets in the US are still competitive, and landlords will select the most qualified renters who present completed applications, proof of available funds, and a positive "rental resume."
Industry research shows that destination services are a key contributor to a faster return to productivity and that home search is among the most stressful activities for a transferee or assignee who is already managing through the complicated processes associated with mobility.
Effective support can reduce the 15+ days on average that employees spend trying to source properties on their own.
What kind of rental relocation assistance works best?
In our next blog, we'll explore the opportunity to support renters even more effectively by aligning company commitments to equity and inclusion with smart, effective, and sensitive assistance to diverse populations.
Q4 UPDATE - KEY HIGH-VOLUME MARKETS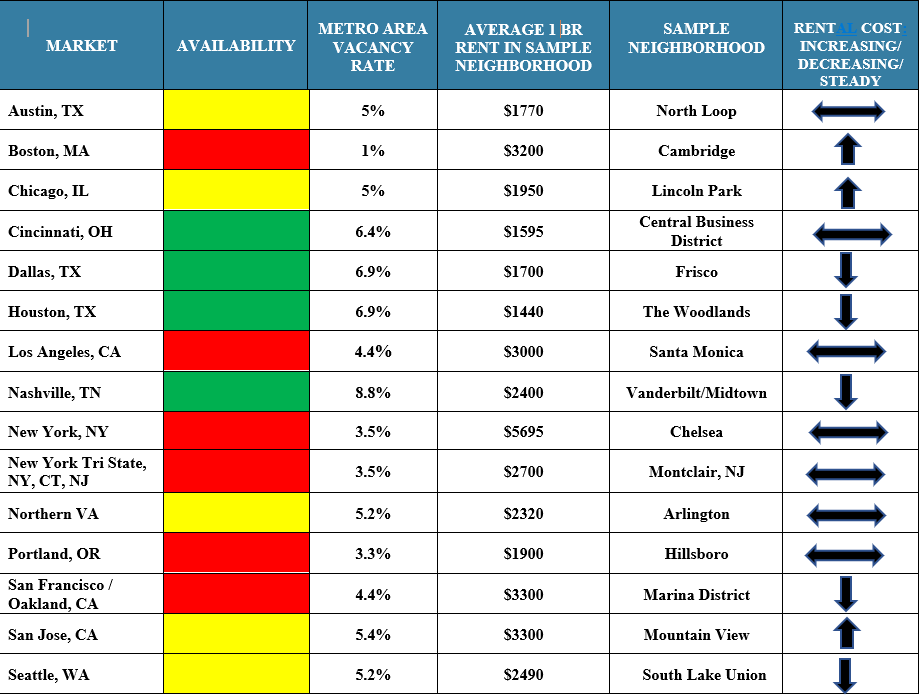 SHARE THIS