With the recent announcement of full FDA approval of the Pfizer vaccine, the pandemic remains front page news in the US. For businesses and for global mobility managers, the equally important story is the impact of key economic indicators such as GDP growth (by some estimates as high as 7% vs 2020) and talent management needs (per August BLS estimates, there are one million more job openings than people to fill them). As goes the US, so goes the world. Vaccination rates are increasing and border controls are being reviewed and updated, with national health agencies continuing to govern the process. There are myriad cause and effect analyses behind these statistics, but for the mobility industry, all the data point in one direction: more people are being hired and moved, in larger numbers, while the system to support the activity is still in fragile recovery.
Within Dwellworks main sectors of service (short term accommodations and long-term rental/home-finding assistance), a few key numbers tell the story: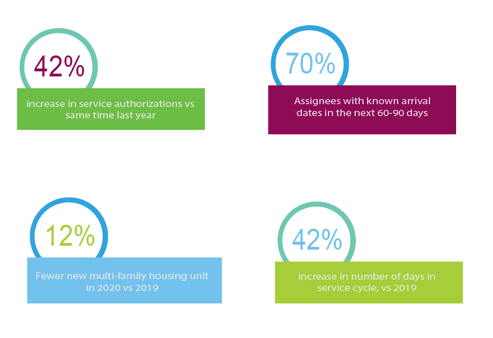 Pressure on the System
What's driving the extended service cycle and what are the impacts for customers in the destination services/rental assistance pipeline? In many instances, they are the same factors we are seeing across global workforce mobility management services in general, including:
Variable arrival dates
Managing to the unknown: Service suppliers have not been able to plan around a 'date certain' for assignee arrivals due border restrictions and visa and immigration delays, modifications to business plans, changes to impacts on family situations, and most recently a new uncertainty surrounding the Delta variant.

"Unknown" to "All at Once": The past 18 months have been focused on providing continuous information in anticipation of eventual arrivals; the next 6 months will be a combination of working through the backlog of arrivals plus thousands of new authorizations.
Tight supply in short- and long-term housing
Rental housing shortages:

Backlogs in new construction, furniture, and basic construction materials (and lack of construction labor), fierce local competition from move-up renters and WFH employees looking to upgrade, and landlords exiting the rental market to take advantage of historic home-sale prices are all contributing to the shortage.

No new inventory:

New construction of multi-family housing fell to a five-year low in 2020, after 2019 saw the lowest number of apartments brought to market since 2015. Nationally, vacancy rates are between 5-6%.

Rising rents

:

Apartmentlist.com

notes: "Rents are rising quickly everywhere." Our local experts leverage their relationships with property managers and landlords to secure viewings, but the market determines price - whether the 22% average increase in Seattle (vs mid-year 2020), the 15% increase in Austin, or the 20% increase in the greater Phoenix area.
Variable access to services/properties
The rules are subject to constant change:

Whether visits to properties, local social security offices, departments of motor vehicles, or local schools, things don't always go as expected. Office hours may be restricted, new staff may not understand the nuances of what we're attempting to accomplish, and processes often take longer than normal.

'Confirmed' appointments may be postponed, delayed, or rescheduled:

Our on-the ground experts track all the above and keep transferring employees up to date, but they cannot control unpredictable external factors.

Video walk throughs and no-touch applications are commonplace:

In markets such as Boston, Seattle, and even a resurgent New York and Bay Area, video and virtual tools are now common landlord offerings to manage the volume of renter interest/property showings.
Pandemic flare ups
Responses vary among locations:

Some jurisdictions mandate masks (and vaccines) for in-person interactions in any indoor space (e.g., an apartment tour or classroom), others have no mandates, and still others have ongoing, unresolved disputes on guidance.

Not every service can be delivered in person on a predictable basis in every market:

Waiting for the 'all clear' and guaranteed in-person accompanied service contributes to service delays when high performance virtual and digital service options are available to support much of the service experience without delay.
Responding to the Rate of Recovery
Following are our recommendations for responding to the present pressures for the most satisfactory and sustainable outcomes:
Recognize the causes are systemic and temporary. Understanding the common drivers behind the impediments to service means everyone in the value chain can work together for solutions. Service success is not a 'hand off' down the chain; it's an ecosystem of communications and shared decision making based on the facts.
Stay current on the facts. As a global DSP, Dwellworks embraces its capability to share up-to-date information on property availability, pricing, COVID-19 restrictions, landlord requirements and other key data points in hundreds of markets worldwide. Credible and current information should drive policy, budget, and timing expectations.
Plan for extended service cycles. The delays are a function of the rebuild and should be factored into overall mobility planning. We suggest setting employer/global mobility management service and cost expectations for a 6-month service cycle, to factor in extended property search time and potentially extended temporary living stays.


Drive creative solutions. As employees remobilize, the tools for virtual/visual/digital communication should become part of standard service delivery practice. 'In person' is one way of working; it is not a guarantee of a better service experience. Corporate clients should demand their supplier partners implement the smartest and safest customer experiences.
Provide thorough and timely updates. Efficiency in sharing information is a control which can expedite action as market-driven hurdles are cleared. Communication via API is ideal. Providing destination service providers with complete data histories (with appropriate PII exclusions) and supply-chain service coordination will enable faster solutions execution prior to and upon arrival in market.
Conclusion
Employers and their service partners have a shared commitment to successful mobility outcomes as we enter a phase of high demand and rapid economic recovery. A positive 'shared fate' mindset has enabled cooperation, innovation, and continuity of service throughout the global disruption of the pandemic. With the much more promising outcome of global economic recovery on the horizon, collective responsibility for managing timing, resources, and processes in our control is our best guarantee of ensuring sustainable service excellence going forward.
To have a conversation about the actions Dwellworks is taking to prepare for the business climate ahead, please reach out to us at hello@dwellworks.com


SHARE THIS