The role of a human resources professional is often dynamic and inclusive. The HR team in global companies is tasked with bringing together diverse groups of people and helping them succeed. This is a substantial challenge, even in a digital age. In fact, the rapid advances in technology can sometimes create an additional level of misunderstanding that must be addressed before multicultural teammates can reach their goals.
How You Can Help
By being a proactive HR professional and exploring intercultural training, you are already off to a great start. Begin by sharing information about ICT with your coworkers or employees who you think would benefit from training. The Society for Human Resource Management (SHRM) points out in this article that every company is different, a statement with which we completely agree. It is evident, no matter the situation, that the need for training is growing and blended strategies for training are most effective.
Next Steps
First, confirm that you need intercultural training for your team with this infographic. Then, follow this flowchart to determine what type of training would be the best fit for your team. If you oversee a diverse workplace (even if your office is just in one country), you will be amazed to observe how the employee culture can improve with training. Employees discover new ways to communicate with one another, which saves time and frustration. Furthermore, your teams will appreciate the company's effort to invest in making the workplace more harmonious.
Dwellworks Culture Cloud offers three levels of training, which you can purchase here:
Culture 101 Designed for casual business travelers
Culture Business Designed for frequent business travelers
Business and Life Designed for those relocating for work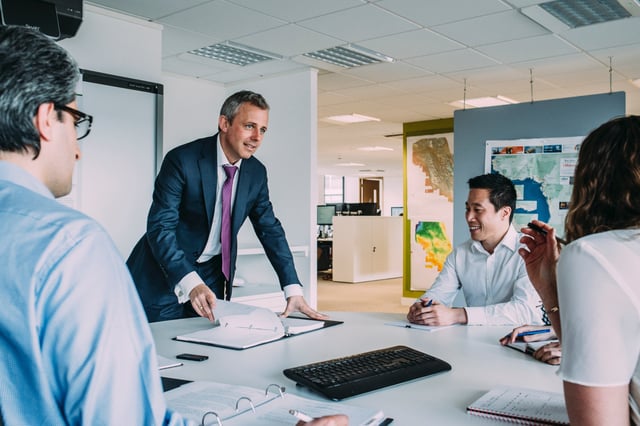 A Duty of Care Consideration
At first, cross-cultural communication may seem like common sense or something that employees would pick up on their own (speak slower, use more written communication, and so on), but unfortunately this either 1) is not enough or 2) does not happen as quickly as necessary.
By providing employees with the best preparation tools available, you are ensuring their success. Training for departments or families builds a strong support system that will carry employees through times of major cultural changes.
Workplace Wellness
Pioneering businesswoman Brownie Wise said, "If you want to build the business, build the people." Cultural training helps employees understand cultural concepts and motives, which makes them more open to working with various behaviors. Employee turnover is reduced if it is clear that there is an investment in relationship building. When a company treats employees with care, the employees become passionate brand ambassadors.
Building on cultural training, you can encourage and help employees to build their own networks. For example, the foodies, parents, graduates of area universities, or female employees may enjoy having an established meeting time when they can share their experiences. Doing this helps strengthen company culture by introducing employees to one another in a comfortable environment.
In the publication titled "The Role of HR in Cross-Cultural Environments: The Way to Managerial Communication," the authors acknowledge the multifaceted, competitive environment that can emerge from culturally diverse workplaces. Human resources are undeniably a competitive advantage that must be protected and developed for a successful global presence.
Back to Blog Listing