From now until August, each week, two or three of our summer interns will be highlighted as they reflect upon their experiences and work while employed with Dwellworks.
This week, we put the spotlight on Sam Sutton, our Accounting intern in Cleveland, Abby Seelie, our Marketing intern in Cleveland, and Shayla McGuckin, our Corporate Housing intern in Cleveland, as they write about the meaningful work they have completed at Dwellworks and their view of working for a global company.
---
6 Places I'd Take an International Visitor if They Visited Cleveland
Sam Sutton, Accounting, Cleveland
Cleveland can be a very underrated city. Those that have lived here their whole life (including myself) seem to have a self-pride about Cleveland and everything it has to offer. I want to take you on a tour of the places I have grown to love while living in Cleveland. Be prepared for a lot of food, sightseeing, and Cleveland pride!
Cleveland Tourist Itinerary:
1. Ohio City
Ohio City is a small neighborhood just on the edge of Cleveland's west side. Taking a walk down West 25th Street, you will see it lined with local restaurants, small businesses, and amazing artwork. This area has been on the rise over the past couple years and offers attractions like the West Side Market and Town Hall.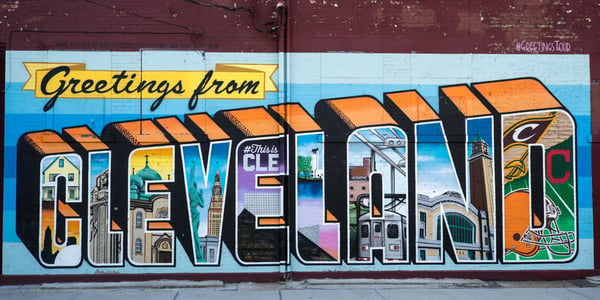 Street Art in Ohio City, courtesy of Edsel Little
2. West Side Market
The West Side Market is an indoor market space in Cleveland. It is home to over 100 vendors where you can find fresh vegetables, meats, seafood, baked goods, dairy and cheese products, and even flowers. We can stop here for a quick breakfast from one of the booths with ready-to-eat foods. The West Side Market has always been a Cleveland tradition.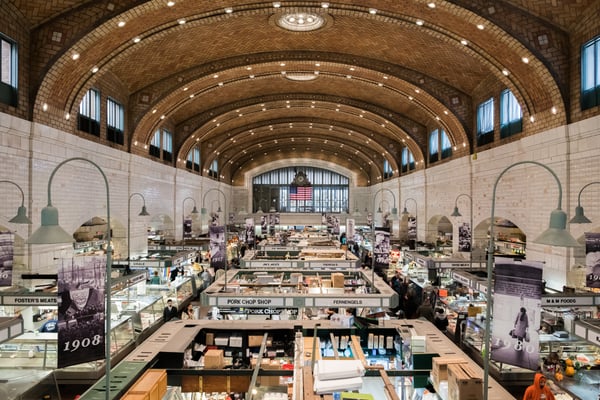 Ohio City's West Side Market
3. TownHall
One of my favorite restaurants in Cleveland is Town Hall. This is a Cleveland-based company located in the heart of Ohio City. They offer healthy lunch and dinner options that are 100% Non-GMO and mostly organic! Definitely a must-try for anyone visiting Cleveland.
TownHall in Ohio City, Courtesy of the retail design blog
4. The Flats East Bank
Flats East Bank is home to many restaurants, entertainment venues, and a riverfront boardwalk. Down at The Flats, you can rent a kayak and go kayaking on Lake Erie (weather permitting, of course). Being able to see parts of downtown Cleveland, while on a kayak, is a fun time and allows you to experience the beauty of Cleveland!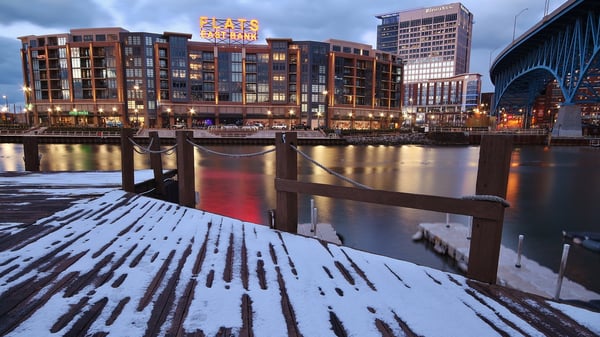 Flats East Bank, Courtesy of k_e_lewis
5. Progressive Field
Progressive Field is home to the Cleveland Indians, our baseball team. Cleveland sports is one of the city's pride and joys and our love for Cleveland shows at every game. Progressive field is a great place to watch one of the best Major League Baseball teams play a game or to relax and eat some hot dogs!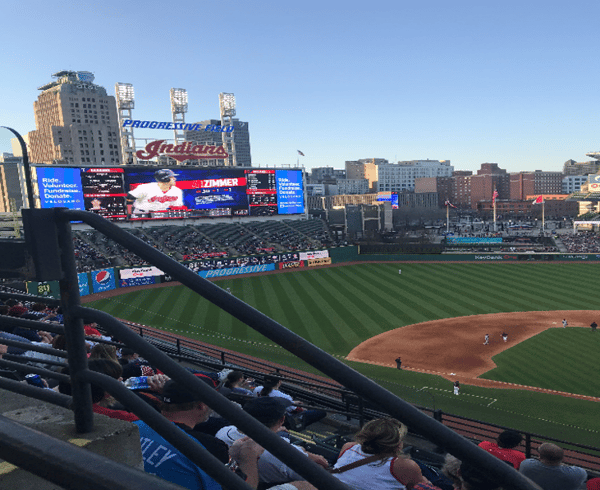 Progressive Field, Home of the Cleveland Indians
6. East 4th Street
East 4th is one of the highlights of Cleveland's entertainment and dining selections. It offers entertainment, like the House of Blues, to listen to great bands or the Corner Alley to enjoy some bowling with your friends. Food options range from casual sandwich shops and pubs to fine dining at great restaurants.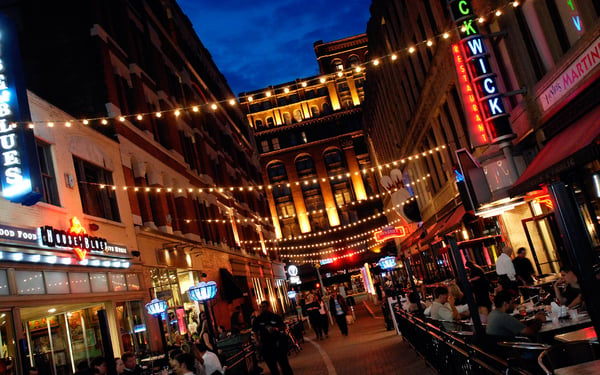 East 4th Street
---
How Dwellworks is Different from Other Places I've Worked
Shayla McGuckin, Corporate Housing, Cleveland
In just a few short weeks we will be wrapping up our time here as interns. Dwellworks has provided all of us with incredible experiences, knowledge, and great mentors. From the very beginning, Dwellworks has proven to be a fun, collaborative, and rewarding place to work. Working here is very different from any other job I have worked at. Before I obtained an internship here, I had no idea that this industry even existed. Not only is the industry very different from what I have experience in, the environment and people at work make it a unique atmosphere to be in as well.
What really makes Dwellworks differ from any place I have worked is that it is a global business. Getting as much experience in global business as possible is essential in today's world. Every day that I come into work, I am communicating and working together with people from other countries. This is something that I was not used to doing and I had to adjust quickly to the different time zones, cultures, and languages.
In my previous jobs, I did not have as much freedom to be creative and take control of my tasks and projects. At Dwellworks, they truly listen to our input and observations. When I thought of what an intern would do for a company, I never thought that I would be contributing so much valuable feedback and work. Working for Dwellworks has been an amazing experience and it has prepared me well for my professional career. Additionally, I will cherish the friendships I have made here!
---
My Experience Relocating
Abby Seelie, Marketing, Cleveland
Having spent nearly two months here at Dwellworks, I have developed a clear appreciation for the value that our services provide and wish that I'd been offered them when I temporarily relocated to Ireland last spring. For example, I would have benefited from staying in a pre-vetted Corporate Housing unit because the appliances in my apartment frequently malfunctioned or under-performed. I wish I'd received an area orientation tour (an aspect of Destination Services) because it took a while to form a comprehensive understanding of my environment. Moreover, Settling-In assistance would have been helpful to learn how to top up the meter that kept track of my apartment's electricity usage. Finally, I really could have used some Intercultural Solutions training to learn about how schooling in Ireland differs from the United States, because that was a major adjustment for me.
It's interesting to consider my perception of the relocation industry at the time I started this job compared to how I see it now. Like many others that start here, I was unfamiliar with the relocation process and where a company like Dwellworks fit into it. Seeing the value that our services provide first-hand and understanding the impact that they can have on a relocation experience makes me much more passionate about the work that I do and in pushing the company forward.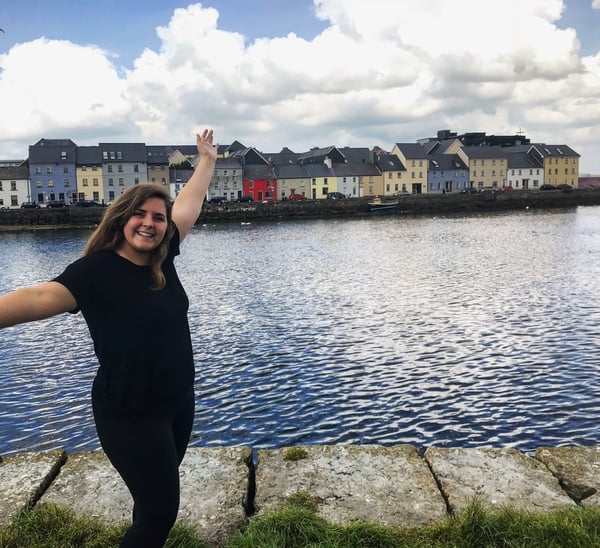 Our Marketing Intern, Abby Seelie, in Ireland
---
Missed last week's intern blog? Don't worry! Check it out here.
Back to Blog Listing