I recently ran across a quote from Stephen Covey. He said, "The main thing is to keep the main thing the main thing." I feel as if it is getting harder every day to focus on our tasks with all the noise around us. That noise might include, on the negative side, process deviations that are causing confusion within the team or addressing client concerns on a service defect. On the flip side, there is positive impact noise such as new client onboarding or new system implementation. While those may be instrumental to the future growth of the organization, they do have the possibility of negatively impacting you in the short term.
While you may not be able to purchase noise-canceling headphones to eliminate these types of items from crossing your desk, you can eliminate a lot of noise if you focus on prioritization; by keeping that main thing the main thing. So how do we do that? (For this discussion, let's not worry about corporate strategic initiatives and assume that you and your team are working within those parameters. Let's focus on prioritization from your desk's perspective.)
Here is a strategy:
Get a true lay of the land. What projects are you and your leadership team involved in currently? What commitments have you already made, and what are the due dates on those deliverables? Where do your biggest pain points lay?
Be honest with yourself. I suspect that after you assess step 1, you will find that you and your team are over-committed, stretched too thin and confused. You likely have initiatives pulling you in opposite directions, and you have become a bottleneck in someone's efforts.
Sharpen your pencils. Now that you know you cannot do everything, you must set about figuring out what is the priority. What is your main thing? Maybe it is based on revenue generation. Maybe it is based on cost savings. Maybe you will attack the low hanging fruit. Maybe it is improved client scores. Maybe it is employee satisfaction. Regardless of what math you are using, make sure you are using some type of logic to prioritize your efforts.
Communicate. Those calculations from step 3 are important because now you will have to talk to your team and other impacted parties (other internal teams, suppliers, vendors, etc.) about your priorities. Some initiatives will be the focus today, but others will have to take a backseat. Ensuring that those backlogged items don't fall off your radar and that the impacted parties understand your rationale and timeline are critical for maintaining your credibility.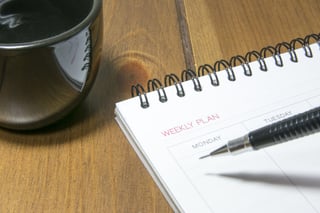 With your priorities set, you can now focus on that main thing. The real world will still happen, so you are going to have to deviate from your main thing to address client needs or tackle an unforeseen system issue, but having your main thing clearly defined allows you to jump right back on it when the noise subsides.
My challenge to you is to figure out your main thing (for the week, the quarter, the year), and focus on that. That focus will allow you to accomplish that goal quicker and more effectively. Then you can move on to the next main thing and continue to keep your team moving in the right direction.
Onward and Upward
To learn how our team at Dwellworks stays focused, read our blog post on Lean and Agile practices.
Back to Blog Listing