Dwellworks Corporate Housing is incredibly proud of our team of Local Leaders. Everything we do is possible because of their amazing talent. Their dedication has helped us book over 400,000 nights around the globe and they consistently deliver the best service to our partners and clients.
We've invited Galdina Bobadilla, Lead Manager for our Mexico Corporate Housing team, to tell us about her inspirational story at Dwellworks.
Can you tell us about how you started your career at Dwellworks?
I've been working at Dwellworks for almost eight years now. And I have to say that this has been an amazing personal and professional journey for me. It was Jack Fraind, the Vice President in Mexico, who invited me to participate in, what back then was, a new Corporate Housing project. Jack and his family coached me and helped me understand how we were going to structure this brand-new business in Mexico. Our very own Patricia Turek trained me in everything operations related, billing, databases, tracking, etc. I learned English and finished my degree with honors. I've received a lot of support and I'm very grateful for that.
Together, we started Corporate Housing in Mexico from the ground up and I am very proud of that. I feel a lot of personal satisfaction in knowing that I was part of this project that continues to be operational and successful. We used to be a small team but now, we've grown into a big family.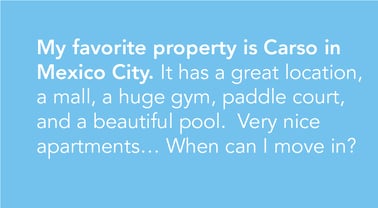 What do you love the most about your job?
I've loved Corporate Housing from day one. Every day there is a new family, a new story to be told. That's what I love. In this position you get to meet people from everywhere. It opens new worlds for you. At the same time, you get to help them navigate your own country and help them feel at home. For me, this job has always been the greatest adventure!
How do you approach transferees?
I always say: let's walk in our client's shoes and pretend we're the ones temporarily relocating in a new country with a new culture and new people. Having this perspective is what has allowed us to establish a very special bond with them — because we understand them. I often question myself and my teammates: what would you like to see in an apartment when you're just relocating? You want to relax. You want it to feel like home as soon as possible.
Moving to a different country is a huge change, so I like to keep that in mind. We reassure them and make them feel like we're a team that's here for them. Sometimes they come back and give us little souvenirs from their home countries. This is an amazing gesture, it's a little piece of our expat's heart.
Can you tell us a success story about your experience in CH?
One of the most special moments in my career here at Dwellworks was when I was recognized by one of our biggest partners. I was sent to their headquarters in Arizona with Andrew Horvath, they gave me a Certificate of Recognition and thanked me for my hard work. They went out of their way to make me feel special. "Galdina Super Star" is how they called me. I will never forget their kindness.
Another success story is the amazing teams we've created, not only in Mexico but around the world, too. We're always supporting each other and facing challenges together as a team. We're all in this together. We're all here to serve our clients and partners.
To learn more about our properties,
SHARE THIS