"I call it the five emotional stages of moving to New York: denial, anger, bargaining, depression and acceptance. No one moves to New York for the housing. They move here for the most exciting, productive, interesting period of their lives." So says Gus Waite, Managing Broker, Dwellworks/Station Cities, New York and an 18-year veteran of New York's always changing real estate market. Recently, Gus joined up with Pamela Roman, Managing Broker, Dwellworks/Station Cities, New Jersey to talk about a marketplace unlike any other. Keep reading for tips on finding an apartment in NYC in this competitive marketplace!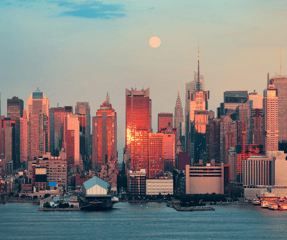 In mid-2020, as New Yorkers were leaving town in record numbers, many headed across the Hudson River to New Jersey. Landlords in New York were offering incentives for the first time in over a decade. The vacancy rate increased to over 6%, and in some neighborhoods, tenants were offered discounted lease terms and found they could afford the rent without roommates. That was then. From a real estate perspective, the pandemic is over in New York City. Vacancy rates are below 1% in the most sought-after neighborhoods. In real terms, as Gus Waite says, that translates to "a property manager I know who manages over 10,000 units in the city - last week he had four apartments available." People are back, the city is open, and even with a construction boom, there is much more demand in New York right now than supply.
I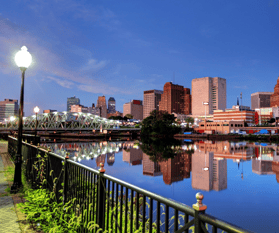 n New Jersey, as Pamela Roman reports, there are more options and better pricing, but the same avid interest in 'name brand' locations. Renting in trendy Montclair brings a 20%+ premium to similar housing and neighborhood amenities in nearby Cedar Grove. On the other hand, if a tenant is willing to enjoy the view of Manhattan from Jersey City's Gold Coast, rather than live on the island itself, they'll save at least $2,000/month in rent. Did you know the train ride on PATH is a fast 8 minutes to Wall Street?
These and many other facts are shared in A Tale of Two Markets: New York and New Jersey, the latest in Dwellworks Tips and Trends in Ten video series, offering insights into global relocation markets, destination services and corporate housing for corporations and relocation management companies.
What is the Best Way to Find an Apartment in New York?
Should I rent in New York or in New Jersey? How much does an apartment in Manhattan cost? What is the next trending neighborhood? With over 100 agents in the market, talking to landlords, property managers and rental community managers every day, we have compiled answers to those questions and the top 10 ways to relocate and rent successfully here.
Be flexible – in your neighborhood preferences, your preferred type of building, your amenities.

Be available – apartment appointments are made at the convenience of the landlord; be sure to keep any appointment, since rescheduling is almost impossible.

Be the 'best choice tenant' - have all your documentation turnkey ready: proof of employment, banking records, 'rental resume' and references, and access to funds for deposits and first month(s)' of rent.
Be open to video tours – if a video tour is available, take it. In a fast-moving market, this may be the best way to review your options.

Be prepared to act fast – apartments are literally here today, gone in 12 hours. Look when you are ready to make a decision.
Other recommendations:
Do not expect bargains or negotiation. Landlords will simply move on to the tenant who will agree to their terms.

Consider alternative options – Hudson Heights instead of the Lower East Side, Hoboken instead of Brooklyn.
Expect fewer showings overall – gone are the days of previewing 20 apartments. The market is moving much quicker, and seeing 3- 5 apartments, in total, is the new normal.

Stay positive – people move here for the adventure and the vibe; the process goes better if you adopt a New Yorker's famous resilience.

Trust your agent – they are professionals working on your behalf, sorting through online listings, contacting landlords, and your needs to best available properties.
New York and New Jersey are among the most competitive rental markets in the US right now. The best way to be sure you get the best possible apartment is to work with people who know the market inside and out.
SHARE THIS