Solar energy is the hot topic around much of the U.S. The popularity of solar panels on homes is on the rise with the combination of increasing electric costs, available federal and state government incentives, and the decrease in cost to have and install solar panels on one's home. Dwellworks recently presented a Worldwide ERC Learning Zone webinar on Solar Panels and the findings were… enlightening!
Most people are installing solar panels on their homes due to the consistent drop in price over the past 10 years. The Southwest U.S. and areas of New England, as well as the New York Tri-State area, are already seeing lower costs for solar power than grid power. In addition, more than 60% of the remaining states should see this trend realized by 2016. This growth of solar in residential settings is due in part to financial programs that are available, and the introduction of various solar leasing opportunities (Energy Informative, 2014).
The up-front cost of buying solar panels is still significant; however, the average savings is also substantial. Most save roughly $20-30k over 20 years, and current tax breaks help to offset the initial cost up to 30%. Plus with owned solar panels, once a homeowner collects at least 1,000 kilowatts of solar energy, they can sell excess energy to a power company of their choosing. These are called Solar Renewable Energy Certificates (SRECs), and they can be sold for about $200 each.
Leases and Power Purchase Agreements (PPAs) are the main alternatives to buying solar panels. Leasing is simpler for homeowners, because they don't have to calculate savings for themselves, or be responsible for maintenance and repairs of the panels. An average leasing contract is signed for around 20 years, and the cost is roughly $50-75 per month. For some, this cost just takes the place of their old electricity bill.
Presently, we are seeing rapid growth in solar energy and solar industry jobs throughout the country. As a part of his U.S. tour about the dangers of climate change, President Obama was in Las Vegas speaking at the National Clean Energy Summit in support of the increased use of renewable energy, particularly solar power. According to a New York Times article, President Obama stated the solar industry now employs twice as many Americans as mining coal.
The use of solar panels greatly reduces the cost of electricity, improves the electrical supply in various locations globally, and helps to improve the environment by drastically cutting carbon emissions (Clean Energy Ideas, 2014). It seems reasonable to conclude the prevalence of solar in homes, businesses, outdoor areas, and more will continue to increase with the decreasing cost to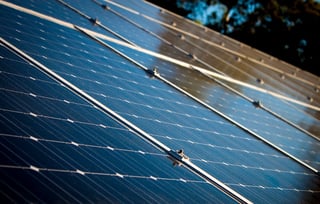 buy or lease. How quickly their popularity spreads will ultimately come down to location –solar panels are not as effective in bad weather areas as they are in others will full sunlight – the cost of electricity, and personal preference.
Fast Facts on Solar Panels:
Solar energy is the most abundant energy resource on Earth
173,000 terawatts of solar energy strikes the Earth continuously; this amounts to more than 10,000 times the world's total energy use
Solar power still only provides less than 1% of the electricity generated in the U.S. (NY Times, 2015)
California is the highest user of solar technology at 1.6 Gigawatts
Along with solar panels, solar water heating panels are becoming more popular to heat a home's water supply, swimming pool, etc.
SHARE THIS