The Canadian Employee Relocation Council (CERC) hosted its annual conference September 11-13 in St. John's, Newfoundland. Global Mobility professionals representing employers and service providers from across Canada and internationally came together for the event.
Topics focused on 'what's next' in immigration laws and technology, recruiting and talent development. and sustainable, socially responsible support for employee mobility and duty of care.
A future-forward agenda for relocation
As Canada, like countries around the world, emerges from the global Covid-19 pandemic, its government, citizens, and employers face new challenges. The country, for example, is known for immigration policies that are both welcoming and focused on meeting core talent and growth needs for Canada's economy.
Employers are learning that good policy intentions can be snarled by out-of-date technology and a visa processing backlog, which can hold back growth and talent mobility. Government and employers are actively exploring innovations in Artificial Intelligence and the use of large data sets and analysis to accelerate and modernize the process.
The immigration session provided helpful updates for what to expect. Technology-driven solutions be tested and implemented in the coming months to support planning for 2023 and beyond.
Spotlight on employee well-being and mental health
The key focus of the conference was sourcing, developing and sustaining talent, in the context of global mobility and employee care overall.
Employees in all roles are reeling from the stress associated with the pandemic, changes in working standards and expectations, the 'work from home' / 'work in the office' / 'work from anywhere' debate and the general, high level of demand and performance expected in a very uncertain and transitional world.
Employees 'on the move' can experience even further stresses as they figure out their place and comfort in new environments as well as within a process that can lead to unplanned changes and requirements.
What are the support solutions for mobility-related well being?
Conference sessions on well-being focused on the need for honest, open recognition that employees in all roles in our industry are asking for help, silently and out loud. Organizations need to be responsive in order to build truly sustainable operations.
The breakout session on "Mobility and Mental Health," with an industry-expert panel hosted by Jennifer Connell of Weichert Workforce Mobility, was an interactive conversation with the audience, talking through the mobility process end-to-end and how employees can be supported. A welcome stress-management exercise helped the group with a much leaded break from a stressful relocation season.
The final speaker, Brad Gushue, a Canadian Gold Medal Olympian, talked through his Roadmap to Success. With his experience in finding team success under challenge and pressure, he focused on the journey of planning, perseverance, and acceptance.
His comments on supporting team members through vulnerable times and overcoming adversity by speaking up and asking for help resonated in the current environment of global mobility. In times of work, homelife and external environment stress, people need to feel safe to talk through their very real experiences, on all sides of the table….as customers/transferees/families, employers, and service providers. The emerging model is to get beyond 'silent coping' and recognize shared concerns and the opportunity for a shared, respectful approach to managing through stress across all parties.
Is ESG playing a role in Canadian mobility?
In a word, yes. Leaders of industry associations like CHPA and IAM and other key service providers discussed supply chain and sustainability initiatives. Subject matter experts spoke about the critical need for intercultural training and sensitivity to support diversity and inclusion in mobility populations.
The panelists speaking to the "Meeting Your Global Compliance Obligations" audience reminded us that "without proper planning, international assignments often lead to compliance issues and unnecessary costs for companies, as well as for their employees."
Good governance, such as employment policies, fair employment practices, and full compliance with local, regional, and international laws, are critical to the integrity of global mobility.
What's next?
CERC member companies are mobilized around understanding and preparing for headwinds on the immediate horizon (inflation, housing and energy costs, surges and slowdowns related to post-pandemic volumes).
While acknowledging current service needs and supply chain backups, the conference was ultimately focused on the future, best captured in the session "Fueling Your Talent Pipeline."
Patrick O'Leary, Global Program Director for Talent Beyond Boundaries (TBB) and other panelists discussed creative options for sourcing talent in a competitive world and using resources like TBB to enrich and expand workforce diversity.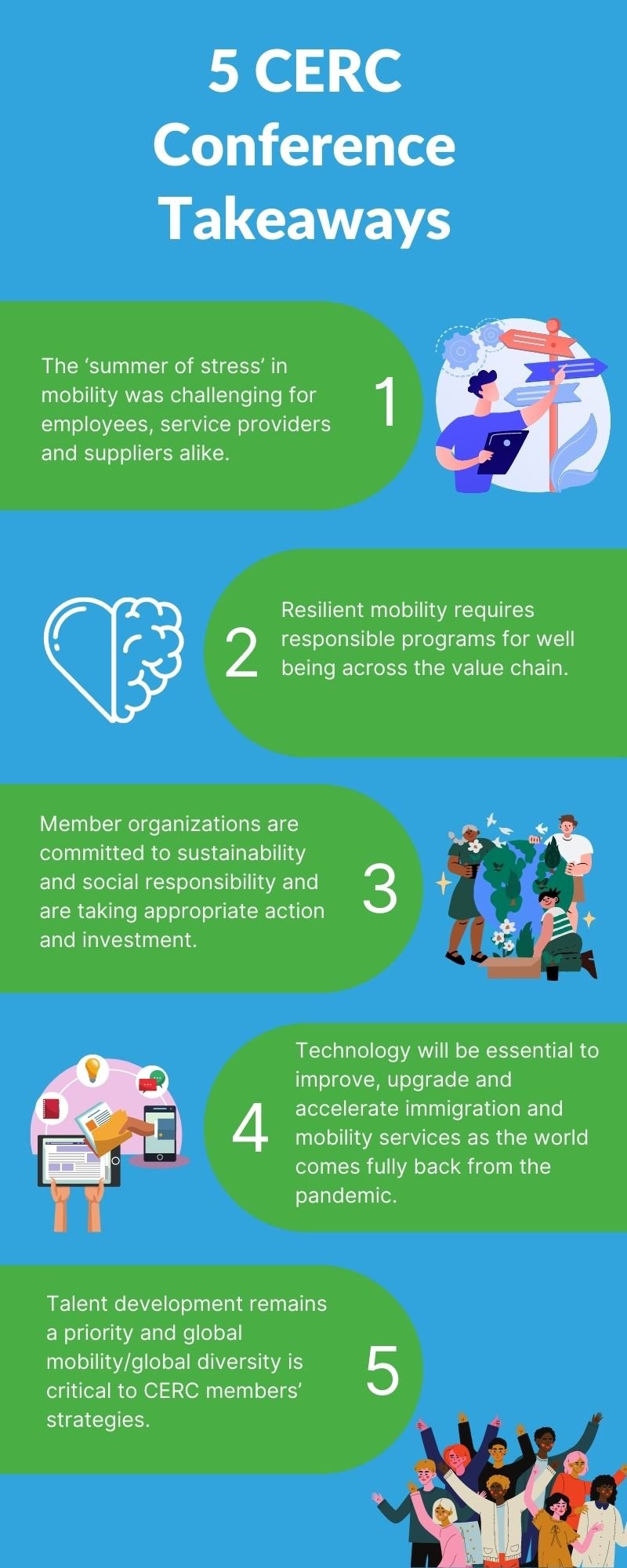 SHARE THIS