At the end of the busiest summer season for travel, relocation, and accommodations bookings since 2019, how are things looking for corporate housing?
This question was answered on September 22, when EuRA (the European Relocation Association) hosted a Corporate Housing briefing, moderated by Dwellworks Living.
The conversation involved Christina Connolly, Premier Suites, Ireland; Jason Parry, SIRVA BGRS, Phil Stapleton, SITU; Sally Branding, Destiny Scotland; Rob Somner, Cheval Collection, and Vidak Glavinic, Dwellworks Living, and was hosted by Jess Blakemore at Dwellworks Living.
Key Takeaways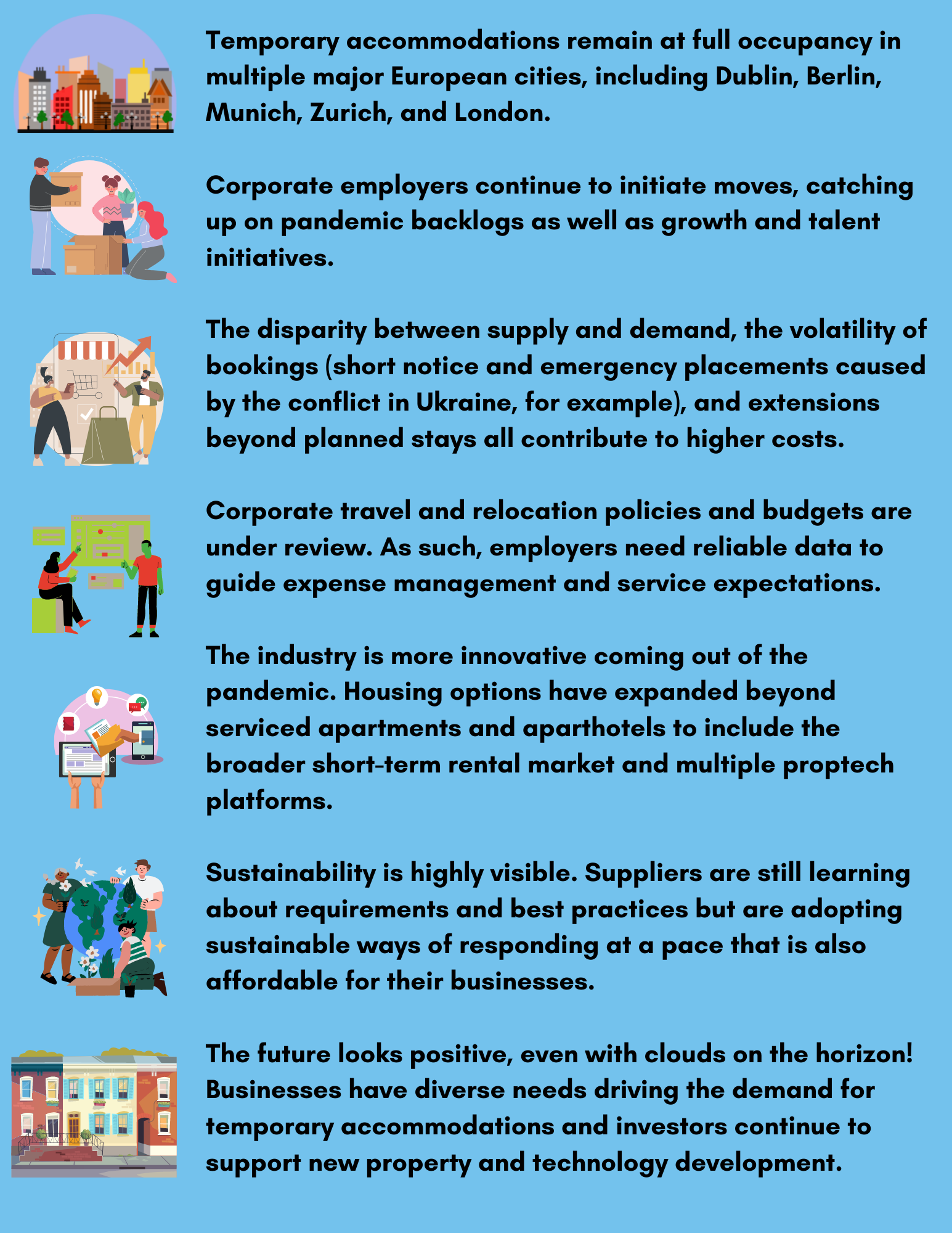 Has availability improved?
Somewhat, but not in the most active markets – in the opinion of operators within Dublin, London, Berlin and beyond. As Christina Connolly noted for the Dublin market, "we're at 95% occupancy and fully booked for October."
Operators are not expecting a quiet period at the end of year since clients continue to adjust their schedules based on scant availability. Moves originally organized for summer are happening now, and since all rental supply comes from the same sources, the shortage carries over to long-term rentals.
With long-term housing also in short supply, short-term stays are extended, making it nearly impossible to accommodate moves with no notice, though, as Connolly noted, "we are always working the jigsaw puzzle."
On the upside, suppliers have been extraordinarily diligent in sourcing properties, stepping up their lease acquisitions and on-boarding new options, reported Vidak Glavinic and Phil Stapleton.
Of course, there is the requirement to ensure these new style accommodations leased through the short-term rental market also meet corporate compliance specifications, but there is absolutely progress in expanding supply to respond to demand.
Have client needs shifted?
Jason Parry at SIRVA BGRS noted that the corporate clients' service needs for responsiveness, quality and consistency remain the same. Additionally, with the challenges in sourcing and the increased cost of housing, clients are applying greater scrutiny than ever before.
Recommendations for budget and policy changes need to be supported by facts, data, and trend reporting. Clients are also interested to learn more about alternative options and to confirm that their supplier partners are pushing past pre-pandemic models and actively expanding their housing inventory and supply chains.
Sourcing for solutions has become more complex given the consumer-quality expectations of guests. Several experts noted that aparthotels were a standard temporary-housing offering for years, but no longer exclusively meet the expectations of customers looking for a more 'home like' experience and those with larger families and requiring more space.
What strategies are gaining ground?
Speaking as a member of the ASAP Advisory Board, Sally Branding at Destiny Scotland commented there is good understanding that sustainability is a key client requirement, as well as good for people and the planet.
The challenge for corporate housing is in the very diversity of suppliers – from operators with a dozen units under management in different buildings, to regional aparthotels, to large scale agencies like Situ with its comprehensive Starfish ESG program.
Corporate housing suppliers are learning from industry-wide education initiatives like ASAP's Join the Journey and CHPA's Sustainability Series and progressing from education and awareness to building sustainability programs and accessing tools to measure their environmental impact.
The key piece of advice is to learn the basics and take incremental steps. In turn, industry associations are banding together to provide standardized guidelines and timelines so that suppliers can implement sustainable practices efficiently.
Clients expect to see 'eco-friendly' choices in the options presented to their employees. Supply chain managers at Dwellworks Living and elsewhere are building out plans to educate and identify qualified partners and present their options for on their booking sites.
What are the industry's bright spots?
Technology, for one. Jason Parry commented that providers have been innovative and active coming out of the pandemic, demonstrating actual features and functionality upgrades, and not just 'roadmaps and power points.'
The general sturdiness of the industry was commented on by several. After a very rocky 2020, the entrepreneurial spirit in corporate housing took hold and companies have built back capacity. Rob Somner at Cheval noted that it's been a period of growth and expansion since the sector is serving a wider customer base than ever, overall.
Others commented that their teams have been committed to finding solutions throughout the worst of the pandemic as well as the non-stop needs from mid-2022 on.
Most panelists agreed it's too early to predict what will happen in 2023. While the initial post-pandemic volume surge has been largely managed through, companies still have plans and projects they are seeking to execute, provided the overall global economy and political environment are stable enough to sustain mobility and global travel.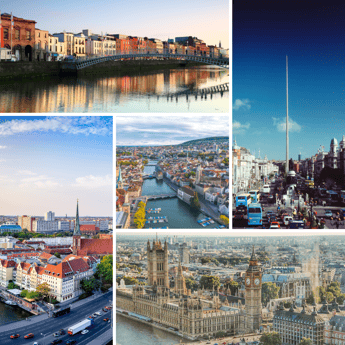 So, what's next?
From today's perspective, the view is positive. For the immediate future, through Q4, employers and guests should continue to expect tightness in supply – even as operators continue to source more broadly – as well as better tools and processes for updates, occupancy management, service experiences, and financial reporting.
To view the 45-minute session in full, go to: https://youtu.be/xQd_mC02JWA.
For more on EuRA's relocation insights and briefings, visit www.eura-relocation.com.
SHARE THIS