Although we're only a few weeks into 2023, the trend is a tapering of activity slowdown in European rental markets that are high-volume relocation destinations.
Many major European hubs were overwhelmed by relocation, travel, and refugee activity in early to mid-2022. For 2023, the expectation is sustained activity, but not at the relentless pace of last year.
In this blog, we'll explore the latest rental market trends in key relocation cities in Europe to help you stay informed about the competitive markets.
Is there a recession in Europe's future?
Most economists expect a recession in much of Europe, defined as slowed to negative growth. This potential recession is driven by high inflation rates (though that is slowing in many countries) and lowered consumer demand, due to the high cost of goods like energy.
Even with a potential recession on the horizon, many sectors such as healthcare and energy/energy transition sectors are thriving, and employment remains high. The war in Ukraine continues to cast a large shadow, from concerns of a spreading conflict to managing the support, housing, and services needs of refugees and those relocated from Russia by Western employers.
The housing picture in most large cities remains one of low vacancy (1-3% in many of the markets below) and increased year-over-year cost, as housing stock is not expanding and in some markets is even contracting due to unfavorable economics for landlords and developers.
Assignees should continue to expect competitive markets. Flexibility, preparedness, and readiness to act are the best tips to secure housing
What are the updates on schools in key European markets?
For families, note that the UK and all EU countries guarantee enrolment for school-aged children in government-funded schools.
The challenge in most locations is sufficient advanced notice and working with the possibility that the guaranteed school placement may not always be in the closest neighborhood school.
Classes in government schools are taught in the local language (s). Private school/international options are available at a higher cost to secure continuity with home country education norms. Other location-unique information in our market profiles is listed below.
Here's an update on specific high-volume relocation markets, moving from west to east.
Dublin: Low unemployment and continued low vacancy
With a booming economy and an unemployment rate of less than 5%, Ireland is "still hiring," and recruiting critical skills workers to migrate to the country.
As a result, housing remains in short supply, and expensive, though the situation has become more manageable from the record demands of mid-2022.
There's a decrease in the number of registered tenancies in the market (approximately 7% fewer than this period last year) and an increase in available apartments in Dublin. However, the number is only 600 vacancies for a market of nearly 1.5 million people.
Real estate economists predict an active property market, as current landlords review new tax laws and may look to sell their holdings. Overall, the rental market remains very competitive and tight. Ireland has welcomed over 60,000 refugees from Ukraine, who have preferred placement in hotels, rentals, and schools.
Rental rates continue to increase. Rates for units put on the market after a current tenancy is on average 11% higher than at the same time last year. Landlords' minimum income standard of no more than 40% of tenant income used for lease payments remains the benchmark.
London: Rental market stabilizing and adding inventory
The London market is stabilizing relative to a very busy 2022. Stable is defined here as a slower increase in the price of rentals, but increases will continue. The average cost of rentals in Central London in November 2022 was 11% higher than in 2021.
Some market analysts are predicting increases this year in the 3% range. Demand is softening incrementally, and supply is increasing, but the rental market could change as more companies require employees in the office, and the population of the city increases.
With prices stabilizing, it's expected that the market may be more active with current renters moving up, creating more supply in the marketplace. New property developments are also expected to open throughout the year.
Inflation remains a concern, with the inflation rate hovering at 10% (though decreasing) and energy costs skyrocketing at triple digits versus a year ago—though government subsidies are mitigating the cost).
In general, the London market remains competitive, and renters should expect limited landlord flexibility. Delays in finalizing selections will typically result in the property being left to other qualified parties.
Amsterdam and The Netherlands: Social housing policy tightens the market overall
The Dutch economy, led by high tech, energy, agribusiness, and services, and port traffic through Rotterdam, continues to boom post-pandemic. Unemployment is at 3.5%.
Rental units remain in short supply in the 'big five' cities of Amsterdam, Rotterdam, The Hague, Utrecht, and Eindhoven. Availability has been further impacted by an expansion in government-subsidized rental housing, which further limits options for private renters, including expatriates, at the lower end of the rental scale.
With low vacancy and limited incentives for landlords/developers to add properties to inventory, competition is fierce for available properties and rent rates continue to climb. The average Amsterdam rental that turned over in 2022 had a new monthly rate 10.3% higher than the previous year.
Properties move quickly, with online posting, showings, and apartment leasing all being finalized within 30 days.
Luxembourg: Continued inbound migration and housing market pressure
Luxembourg has some of the highest population growth in Europe, primarily due to immigration.
Rental housing is in acute shortage since many renters are electing not to buy homes and rental prices increase with each new move. Luxembourg has low unemployment (below 5%) and is a relocation hub for banking and high-tech.
Additionally, though traditionally a "commute economy" with half the workforce living in Germany, Belgium, or France, the tax implications of working from home part-time have led many workers to move to Luxembourg, further increasing rental property demand.
Rental laws are strict, and landlords have little incentive to negotiate their required terms.
Paris and surrounding suburbs: A tight rental market throughout the region
More than half the population of Paris is single: small rental spaces are in great demand. Assignees headed to Paris may feel pressured to decide, but the pace of the market requires fast decision-making, currently with limited options.
Outside of the city center, much of the population is still working from home which has put enormous pressure on available rentals in the suburbs, especially homes with gardens/outdoor space and larger apartments for multi-person families.
While the overall unemployment rate in France at 7.3% is higher than in some other EU countries, employment is stable/growing for key economic sectors. On a national scale, France has welcomed a Ukrainian refugee population of 95,000+, mostly settled in markets outside of major cities.  
Berlin, Munich, and other key German markets: ongoing volume + ongoing challenges
Multinational corporations have moved a large number of expats into key German markets since the Spring of 2022. Overall, corporate transfers from Russia have stabilized and support for Ukrainian refugees has a continuing impact on housing and services.
Berlin has experienced the greatest impact overall, while Munich has been a center for the transfer of technology and financial services talent, driving competition for housing and increasing the cost of living.
The consistently high volume of relocation activity, sometimes on short notice, has had a significant impact on the availability of housing and the destination services support process.
Temporary Housing stays are 90-120 days on average—sourcing and securing permanent housing continues to take more time. Housing is in very tight supply in Berlin and Munich and only slightly less so in other major cities.
Landlords receive hundreds of viewing applications and have their choice of tenants, often preferring German-speaking locals with long-term leases, fewer exceptions, and all financial credentials in place.
Zurich: "Most liveable" but a high cost of living
800+ multinational corporations have regional or global headquarters in Zurich and the city is consistently rated as among the most liveable in the world. Expats make up over 30% of the population.
The country has experienced a lower inflation rate than its European neighbors while enjoying low unemployment. There is always competition for the limited rental housing available, which comes on and off the market quickly. 2023 will be no exception to that rule.
The city is a landlords' market, and landlords have their choice of prospective tenants, preferring in some instances local tenants with fewer requirements than an expat on a limited-term assignment.
Dwellworks is the world's largest provider of Destination Services, supporting corporate mobility and business travel needs across key European markets. We expanded our network coverage in 2022 and provide expert, in-market support through 300+ local experts in the region. Dwellworks will continue to provide guidance and support in a fast-evolving marketplace. Information contained herein is deemed reliable but not guaranteed.
Q1 2023 Update - Key Takeaways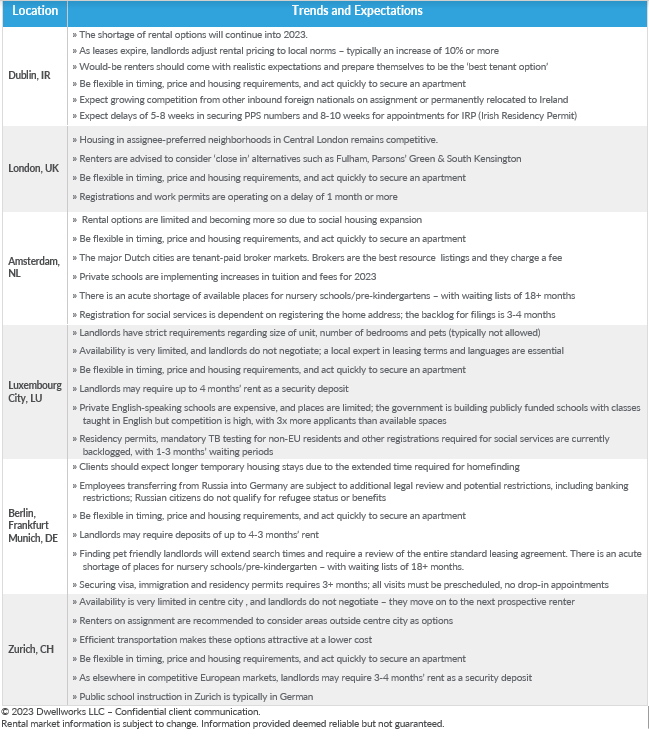 About Dwellworks
Dwellworks provides destination services and temporary living solutions for tens of thousands of customers every year. Visit our homepage, learn more on our services page, and read our blogs to learn how we can help with your corporate relocation and business travel needs.
SHARE THIS