Dublin, Ireland is among the globe's greatest cities. World-renowned attractions, gorgeous parks, and charming locals combine to create a city unlike any other. Here, we dive a little deeper into the gears that make Dublin tick. Today, the spotlight's on: Dublin, Ireland!
The City's Culture and People
More than one third of Ireland's inhabitants call Dublin home. Despite Dublin being the country's capital, there is a laid-back atmosphere throughout the city, creating "small-town" charm in an otherwise large metropolis. Alcohol holds a prominent place in Ireland's culture, and this holds true for the culture in Dublin as well. While pubs are a social focal point, the culture here is also saturated with theater, natural sightseeing, dance, and music.
Things to do in Dublin
Since opening its doors in 1831, the Dublin Zoo has attracted a countless number of spectators and is home to over 400 animals of nearly 100 species. A variety of habitats, such as Gorilla Rainforest, Asian Forest, and Zoorassic World allow visitors to experience endangered animals in creative, impactful ways. The Dublin Zoo works year-round to educate guests, conserve wildlife, and collaborates with other zoos world-wide to breed endangered species of animals.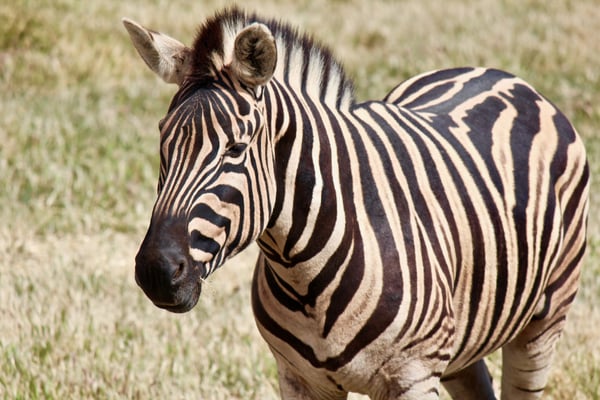 The National Museum of Ireland features collections from ancient Ireland. While exploring the medieval era, Viking days, the prehistoric period, country life and other Irish periods, the National Museum of Ireland provides visitors with insight into the lives of those who preceded current generations. Celtic and Medieval art are also on exhibit at the museum, as well as a display dedicated to kingship sacrifices!
To please one's inner bookworm, the oldest library in Ireland, Marsh's Library, has much to offer. Founded in 1707, the library holds 250,000 books and hundreds of ancient manuscripts. The library's structure, bookshelves, and literature remain the same as the day the establishment was first opened to the public. A portion of the library that most find fascinating are the barred alcoves, where readers used to be locked inside to read the library's books, as book thieves were very common during the 18th century. Another interesting feature in the library is the ink and quill station, where visitors can take their turn at writing as their ancestors once did. While the library is a fascinating historical site, it is not to be explored in the dark. Legend tells that the ghost of Archbishop Narcissus Marsh, the library's founder, roams the halls in search of a note that his niece left inside a book before running away to elope with her boyfriend.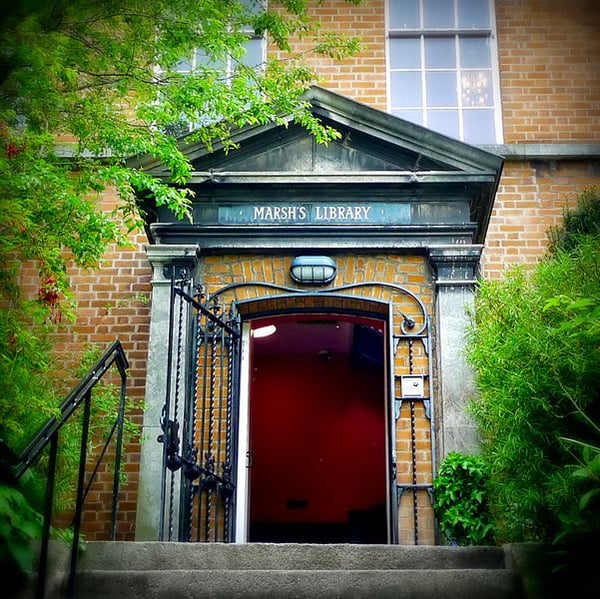 Photo courtesy of Tim Tregenza
The Best Restaurants in Dublin
As any capital should, Dublin boasts some of the finest dining options in all of Ireland. The Winding Stair finds itself among these establishments. Situated above a cozy bookstore, The Winding Stair is a wholesome Irish eatery that overlooks the River Liffey (pictured below) and features a pleasant view of the Ha'penny Bridge. Old-fashioned Irish cooking, paired with produce sourced from local vendors throughout Ireland, allow visitors a plentiful menu from which to choose a meal.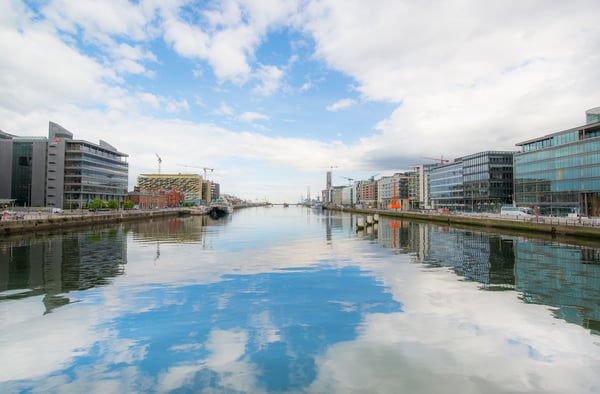 L'Ecrivain is an Irish gourmet restaurant with a unique French flair. Found on the site of two old Georgian Coach Houses, L'Ecrivain promises an enchanting dining experience, whether with friends, family, or a loving partner. Chefs Derry Clarke and Tom Doyle seasonally alter the menu, ensuring that dishes are as refreshing as the restaurant's setting. Local produce farmers stock the kitchen with only the finest ingredients. An extensive wine list complements the menu, enticing patrons with every sip of Irish and French beverages.
One of the oldest pubs in Dublin, The Long Hall enthralls guests with Ireland's best pint of Guinness. Originally opened in the 1860s, the pub has a long history of serving Dubliners and providing entertainment into the wee hours of the night. Today, the pub holds much of its original characteristics, such as engravings, art nouveau glass, and traditional woodwork.
Public Transportation in Dublin
While it's worth mentioning that the capital is among the top fifteen bicycle-friendly cities on Earth, an extensive public transportation system in Dublin assists travelers while navigating the city. A coastal train, the DART (Dublin Area Rapid Transit) rail system, and a network of busses grant riders quick access to all of Dublin. A separate navigational system transports riders to Dublin's surrounding suburbs. Some of Dublin's transportation options even feature complimentary Wi-Fi.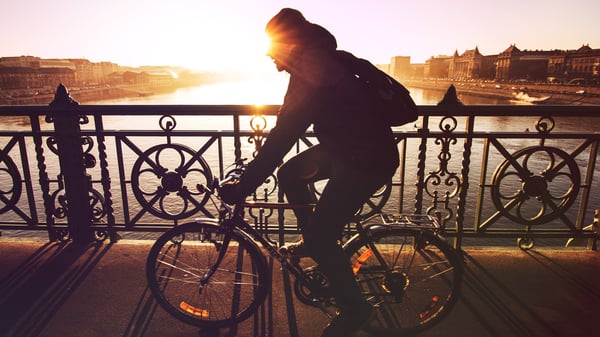 Public Parks in Dublin
While the hustle and bustle of Dublin's city center is invigorating, escaping into any of the city's public parks is a welcome respite from the city life.
The Garden of Remembrance features a sunken, cross-shaped pool surrounded by flowers and shrubbery. The garden, which was opened in 1966, commemorates those who lost their lives for the sake of Irish freedom. Various Irish Republican statues and insignias are displayed throughout the garden, including harps and swans.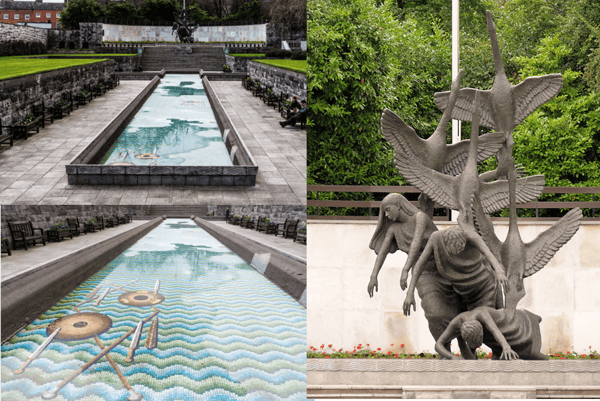 Right photo courtesy of David Dixon
22 acres of nature create St. Stephen's Green, another park located in Dublin's city center. Running and walking trails, a waterfall, an ornamental lake, gardens, and various sculptures come together to create a tranquil environment for visitors.
Just a short walk from St. Stephen's Park Green is Iveagh Gardens, another of Dublin's public parks. A calming waterfall, as well as a parade of blooming flowers and ornate trees, line the pathways of this shaded park. A few of Dublin's yearly festivals and public events are held in the park, as well as concerts and performances, making it a well-known location in the city.
Shopping in Dublin
As one of Ireland's largest shopping centers, Dundrum Town Centre has over 160 shops and over 40 restaurants. During the holiday season, the mall is decorated in a splendid display of holiday fanfare. A cinema is also located on site.
A smaller, more boutique-like shopping center, the Powerscourt Centre provides an array of shops selling designer clothing, jewelry, and antique items, as well as a bountiful selection of dining options. Perhaps one of the most unique characteristics of this shopping center is that it is in an old townhouse that was once home to Richard Winfield 3rd Viscount Powerscourt and his wife, Lady Amelia. The home was primarily used to entertain guests during the Parliament season during the 1700s.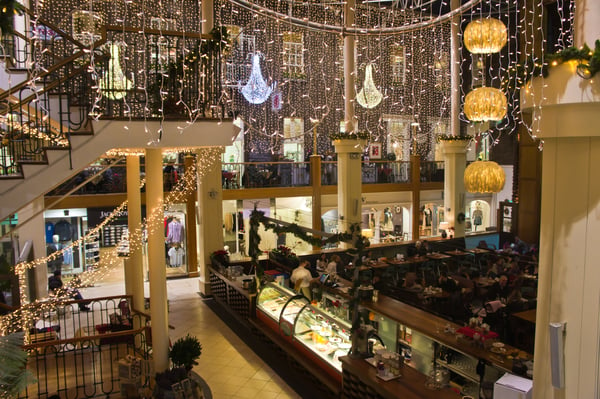 Photo courtesy of William Murphy
After a completed addition in 2004, the Blanchardstown Shopping Centre now hosts over 180 stores, a nine-screen movie theater, the largest public library in Ireland, and many other attractions, such as an arts and entertainment center and a free kids club. Located on the outskirts of Dublin, shoppers prefer this establishment, as it avoids the foot traffic of the city's center.
Festivals in the Capital
While St. Patrick's Day is celebrated internationally, the most prominent celebration is held in Ireland's capital during the five-day celebration of the St. Patrick's Festival
. The festival parade is the most anticipated event of the festival, as Ireland's premiere theater and pageant companies prepare lavish displays of costumes, vocals, and instrumentals as they parade through Dublin City. Stay out after dark to see the city lit in green. The High Hopes Choir, Ireland's first homeless choir, is slated to perform during this year's festival. The choir, which sets out to transform the public's perception of homelessness, has received commendable recognition for their moving performances. Other activities at the festival include fair rides, documentary viewings, and other cultural displays.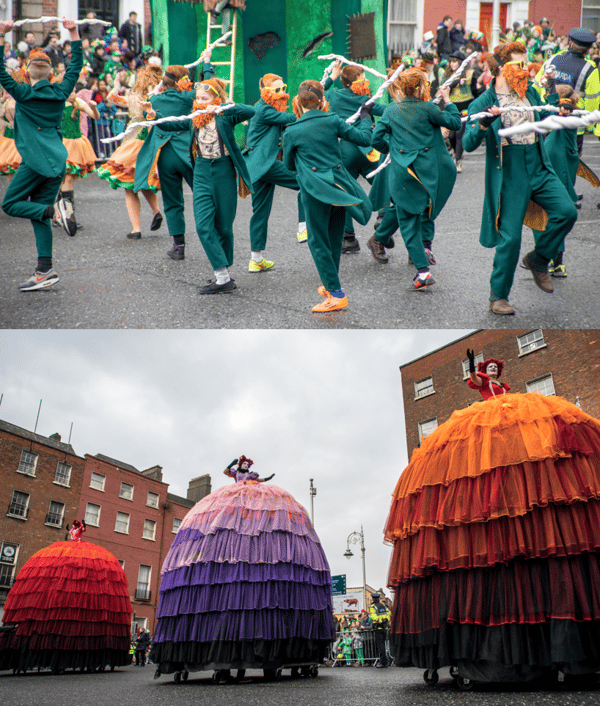 Photo courtesy of Giuseppe Milo

Taste-testing, chocolate themes, chocolate-making workshops, and so much more! Dublin's Temple Bar Chocolate Festival promises to elicit the sweet tooth in every festival-goer.
The Dublin Theatre Festival lasts slightly over two weeks each year. International productions, trendy performances, child-friendly displays, and sensual shows engage crowds. This festival is of particular interest to developing artists, as the event focuses on supporting emerging artists and their work within both the Dublin community and the international market.
---
For other blogs on the magnificient country of Ireland, click below!
---
Are you in need of temporary housing options in Dublin? Contact Dwellworks!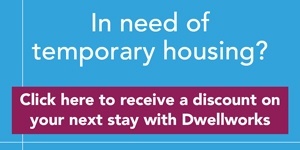 Back to Blog Listing