United States
The trend in US rental costs and vacancy rates continues to be moderately but consistently positive for renters relocating to key US employment hubs. The rate of moderation varies across locations.
As we noted in our Q4 2022 rental market update, in many locations and preferred neighborhoods where demand remains high and supply is tight, the rental rates are higher compared to pandemic-era lows and 2019 benchmarks.
Overall, though, the trend is towards a slow-down in price increases, driven by some core economic indicators.
1. Interest rates have had an impact.
2022 was a year of two very different trends. Rental rates spiked early in the year, and began to flatten, and then decreased, as interest rate increases and concerns about inflation and potential recession slowed market activity overall. By December, the cost of rentals on a national scale had decreased for 4 consecutive months.
2. Supply is increasing.
Construction and property development newsletters state that multi-family housing (MFH) is booming at a rate not seen since the early 1970s. More supply on the market means more competitive pricing for renters.
3. Demand is leveling off.
Higher interest rates slowed the home purchase frenzy but did not necessarily drive all would-be buyers into the rental market.
In fact, many renters pulled back from the rental market or new rental searches, citing other high inflationary costs like energy and the purchase of home goods. Fewer renters active in the market contributed to higher year-end vacancy rates.
4. Vacancy rates are returning to pre-pandemic norms.
Prior to 2020, the multi-year national norm for vacant rental units in the US was about 6%. With the above-cited economic circumstances taking hold, vacancies in most markets are now returning to that level.
Certain markets remain very tight, notably key neighborhoods in New York City and in Los Angeles, but even in those markets, the rate of rental increase has decreased, and more inventory is available.
Overall, for early 2023, most economists predict a more stable rental market generally, with all eyes on interest rates and cost of living, employment, and recession indicators.
Canada
Are the rental trends the same in Canada? Not quite.
Employment and relocation activity are concentrated in a few key markets in Canada, notably Vancouver and Toronto. Overall, these cities will continue to see sharp growth in the cost of renting, per the Deputy Chief Economist at Canada Mortgage and Housing Corporation.
Unlike in the US, there is a continued shortage of apartment units and new construction is not expected to provide relief for several years. The country's key employment hubs continue to attract talent, including those emigrating to Canada.
As Canadian interest rates have risen, discouraging homebuyers, the Canadian rental population continues to grow, at a rate of 21% over the past several years. Renters should expect limited inventory and accelerating costs in Vancouver and Toronto.
What are the overall trends in employment and mobility activity for 2023?
Employers will make the decision about who moves, where, and when, driven by the needs of the business and the budgets to support the moves. The employment market insights from LinkedIn's State of the Labor Market report provide some useful context:
Internal mobility will be critical.
This trend, also called 'quiet hiring,' signifies that not all companies may be adding talent, but they want to keep the talent they have, by offering them opportunities and incentives, potentially including relocation and extended-stay project assignments.
The LinkedIn data notes that companies that offer opportunities have a much higher rate of retention than those that do not.
Large scale layoffs are not widespread.
The biggest layoff stories are in those industries most impacted by the extended 'stay at home' experience of the pandemic: technology and media. Firms that staffed in response to pandemic needs are now taking action to right-size their organizations.
Other more traditional businesses, e.g., utilities, healthcare, and administrative services are projected to expand their hiring.
Companies will continue hiring.
The shortage in workers due to demographics/aging populations means that companies will continue hiring, and potentially more workforce mobility, if only to manage attrition and sustain steady state operations.
Although 2023 is only a few weeks in, significant shifts in rental market trends in the US and Canada are becoming more apparent, leading to improved opportunities for renters relocating to key locations in the US especially. The early indicators for the Global Mobility industry are more 'steady state' than the challenges of 2022.
For information on recent trends, check out part 1 and part 2 of our US rental market trends blog series.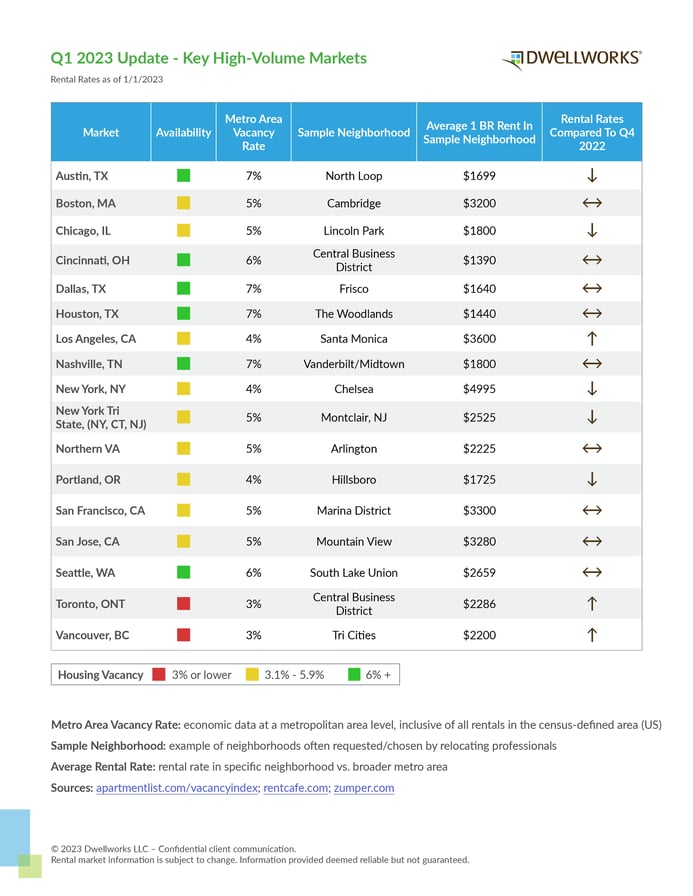 About Dwellworks
Dwellworks provides destination services and temporary living solutions for tens of thousands of customers every year. Visit our homepage, learn about our services for corporate travel and relocation, and read our blogs to learn how we can help with relocation and business travel needs.
SHARE THIS