The comeback is stronger than the setback.
As we move into the second half of 2020 and begin to set our sights on the post-pandemic horizon, we're seeing that slogan more often.It may be optimistic thinking for some; for Dwellworks, it's a promise.
We've all moved together through the various phases of the coronavirus pandemic. Most recently, the question we're hearing from clients is, 'Are you ready for the comeback and new expectations?'
Our answer is, 'Yes and Yes.' In a very challenging time, we've never lost sight of the fact that our clients and customers would rebound and need us in more and different ways than ever before. We're ready because we never stopped the investments and actions that make us the mobility industry's most reliable, secure, go-to choice for global workforce destination and intercultural services, rental services, lump-sum program support, real estate appraisal, home management, and now, global corporate housing solutions.
People, Process, Communication
These factors are what have defined resilient organizations during this pandemic. Our team has never wavered from their commitment to service and duty of care. Here's how we've performed:
We led the industry in quickly implementing and embedding customer-sensitive social distancing and full-virtual procedures for global assignees and transferees
We reviewed safety protocols with clients, customers and our network in full transparency
We established a Covid-19 News Hub early on with positive feedback, knowing our clients rely on our footprint and local presence for actionable information
Our people strategy throughout this period has been focused on retention and redeployment, with limited use of furloughs, and active participation in government salary subsidy programs in multiple countries. We've added talent for critical needs in the Americas and our expanding APAC and EMEA markets. Across the organization, our associates have worked on project teams to drive initiatives and sustain the infrastructure of the business. Most importantly, we've retained our culture through continuous team engagement, recognition and communication.
With an increased global appetite for trusted news and information, we've responded by maintaining open dialogue with clients via webinars, blogs, and of course, virtual meetings to introduce new products, service enhancements, and trainings. As a result of our planning and ongoing engagement we have attracted and retained the best consultants and partners in our networks. We have continued to offer service delivery on pace with the rate of recovery in our geographies and consistent with local regulations and health guidelines. Starting with our operations in Asia, and then in Europe and the Americas, we have adapted service, expanded resources, and aligned with customer comfort and expectations.
Innovation, Investment, Execution
In a cautious marketplace, we have found opportunities to diversify and strengthen our business and readiness for future client needs. On April 1, we announced our entry into global corporate housing solutions by bridging the exit of Oakwood Worldwide from the marketplace with service and support to their clients. The transition to full Dwellworks administration, and the introduction of a new corporate housing brand – Dwellworks Living – will be completed this quarter.
In May, we executed on expansion plans for our Station Cities NYC-Tri-State brokerage by assuming operating control of DJK Residential, a premier relocation real estate brand. We now have 100 agents to serve inbound assignees, renters and buyers in this dynamic marketplace…and the expertise to offer guidance in a rapidly evolving environment.
Rock-solid reliability and compliance are in the Dwellworks DNA. Our processes have been tested and effectively deployed throughout the pandemic. We went to work from home in 12 countries, with over 300 associates, in less than 24 hours. No disruption in service delivery. No disruption in service quality. And no technology breakdowns or failures then or since.
Where some companies may have slowed down, we have accelerated investments in product development, technology and customer experiences that are innovations now, and we believe will set the standard for mobile global workforce solutions going forward. Our myDwellworks™ platform now connects all our operations in the Americas and will be our single global platform by the end of this year. The digital content available on this platform is second to none…enhanced and enriched by local expert contributors on a global scale.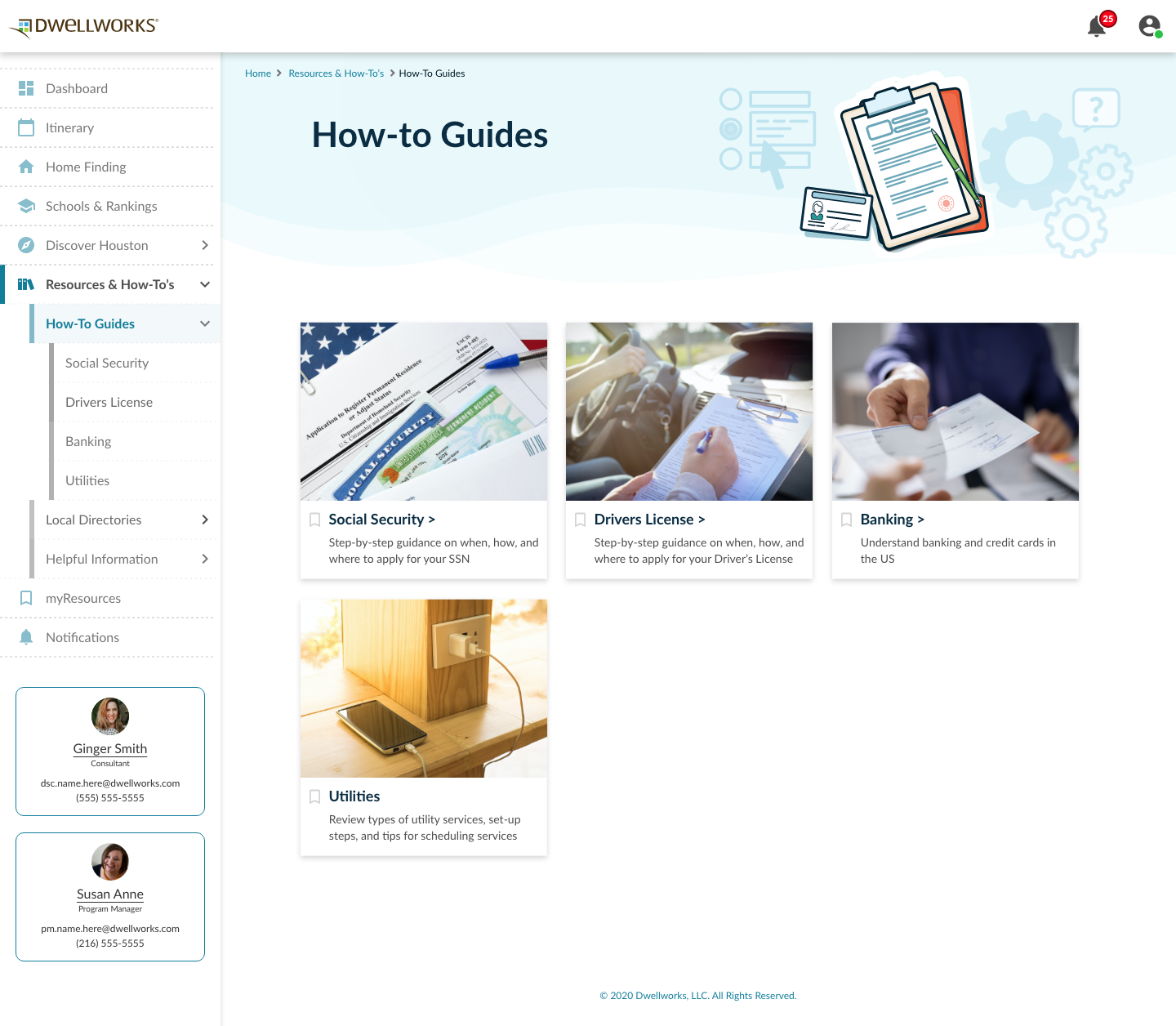 Many people now prefer to manage their destination experience, at their own pace, in a virtual environment and we have provided all the information they need to do so while offering access and support for accompanied service through the industry's most reliable consultant network.
This month, we launched a new product – Xpedite – to specifically address our clients' ask for a more consumer-like, employee-controlled experience for employer-sponsored destination services. Delivered through an easy to use platform, this intuitive new service experience reduces cost and focuses on outcomes versus hours spent. Available now in key US markets, Xpedite will reach the global locations where our clients need us most, by early 2021. We're scheduling demonstrations daily and are excited by the level of client engagement.
Prepared to Lead, Trusted to Serve, Ready to Deliver
What makes all this possible? We've been here before. During the 2008-09 recession, we stayed connected to clients who guided us to opportunities for global expansion, product diversification, and the addition of our property management service line. It was then we confirmed listening to clients, trusting in our people and committing to compliance, bench strength, scalability, and a strategic roadmap for technology were the best ways for us to serve clients and grow our business.
As a result, in 2020, we've delivered on service, revenue, costs, and cash, and our investors' confidence has been steadfast.
Our in-house expertise in compliance, project management, product design, global tax and accounting, local business registrations and business law, plus the continuous application of business analytics to our operations form the infrastructure that supports the highest level of sustained performance in our industry.
Rounding out those investments, we have continued to pursue independent validation of financial and operational processes, like SOC audits, and safety and security protocols. The providers in our global corporate housing supply chain participate in Dwellworks ACTS (Actions for Traveler Safety). We're CHPA accredited and the CHPA Supplier of the Year, and our inventory in Mexico, Germany and Ireland have earned Compliance Assured accreditation from the International Serviced Accommodation Accreditation Process (ISAAP).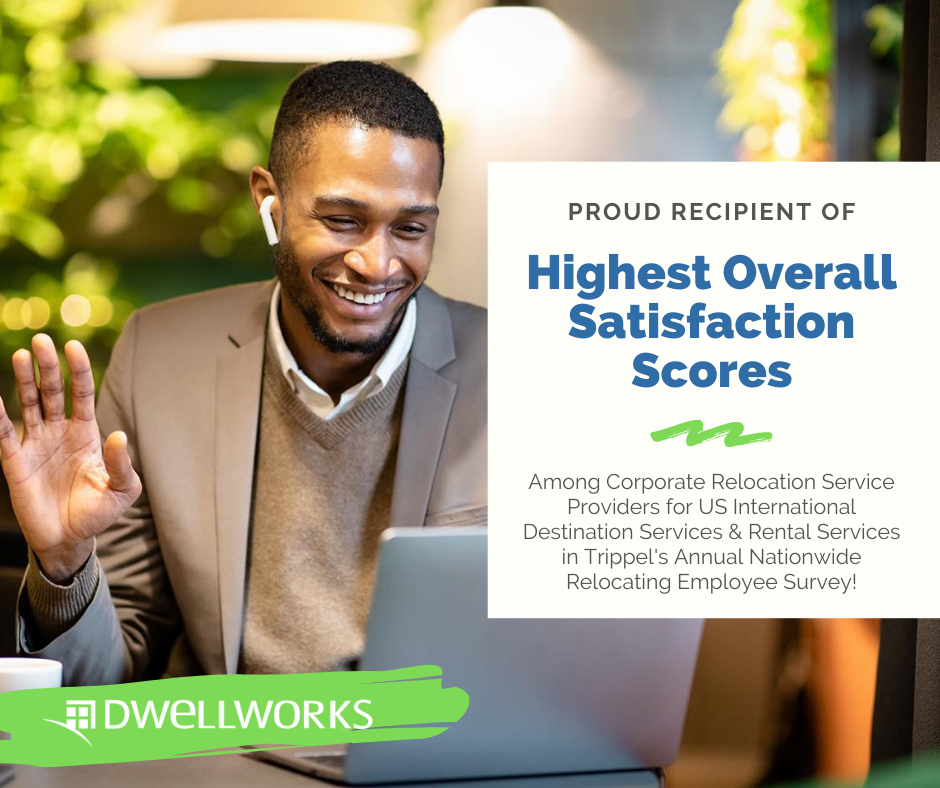 The ROI is we continue to be a trusted partner to clients as we earn platinum scores not only in countries where we manage fewer than 100 moves, but in those where we manage thousands. We were recently notified Trippel Surveys and Research has awarded us the highest customer satisfaction scores in US International Destination Services and US Rental Services for the second year in a row. We're gratified these performances have earned multiple contract renewals and new awards of business over the past six months.
In summary, we appreciate that our clients want to be sure their suppliers are ready to 'turn it back on.'
Thanks for asking…we never 'turned it off.' We're ready.
SHARE THIS