When moving to a different part of the world, it's important to keep your cultural traditions alive to keep a piece of home with you no matter where you go.
It's also great to participate in local cultural celebrations to immerse yourself in your new location and make amazing memories.
As we ring in the fall season, don't forget to take part in the numerous traditional autumn activities in your area.
From celebrations rooted in faith to rousing beer-drinking festivals, there are plenty of exciting celebrations around the world for people to give thanks and celebrate the season with their loved ones.
Here are 10 incredible autumn traditions to explore below.
1. Germany: Oktoberfest – Third Weekend of September until First Sunday in October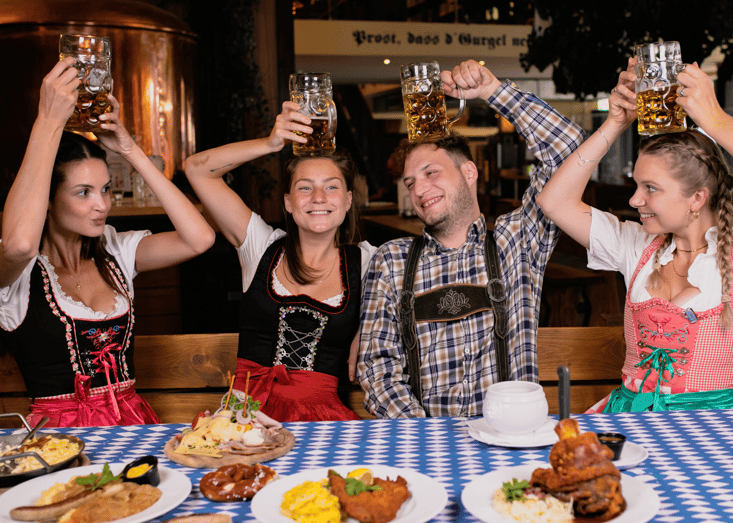 As one of the most well-known folk festivals in the world, Oktoberfest is not just an occasion for beer drinking – it's also a time to have fun with friends and family!
Smaller Oktoberfest celebrations are held in different parts of the world, with some of the most popular taking place in the United States. However, the original Oktoberfest takes place in Munich, Germany every year – and over 6 million people travel to the city to participate!
Typical Oktoberfest activities include beer drinking, parades, live music, and sing-along games. You'll also find plenty of sporting competitions, delicious German food like sausages and pretzels, and traditional Bavarian attire worn by many people throughout the two-week festival.
Oktoberfest began as a wedding celebration for the Crown Prince of Bavaria (who later became King Louis I) to his bride, Princess Therese von Sachsen-Hildburghausen, according to Britannica.
In present-day Germany (and the rest of the world), it's the ideal autumn tradition for those who love German food, music, and culture, and a stein or two of beer!
2. Iran: Mehregan – October 2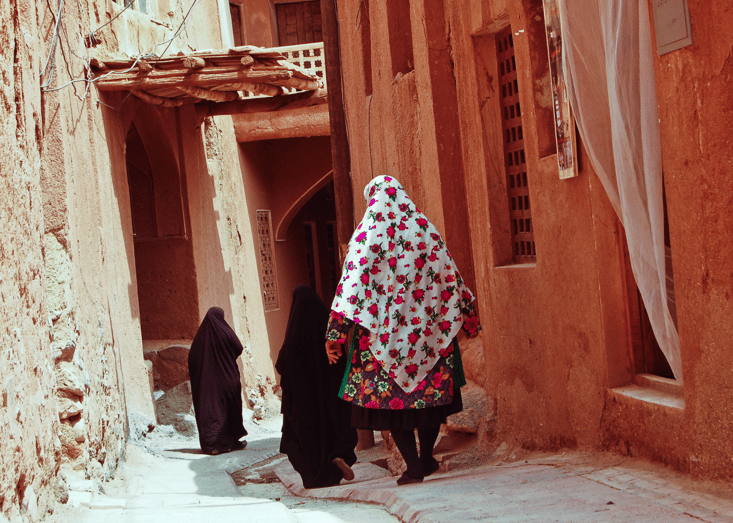 Mehregan, or Jashn-e Mehr, is an ancient Persian festival dating back to pre-Islamic times that's still observed today in modern-day Iran.
On Mehregan, families, and friends visit each other to welcome the fall season. They dress up for the holiday, decorate their tables with colors, and serve food like sweets, vegetables, and fruits. Many modern-day Persians light bonfires and fireworks as well.
This autumn tradition involves a ritual. When lunchtime begins, all members of the household stand in front of a mirror, singing hymns and praying.
Some traditionalists also drink Sharbat (a classic Iranian drink) and rub antimony* around their eyes as a good omen. After this, families and their guests exchange gifts, give hugs, and throw fistfuls of lotus, sugar plum seeds, and wild marjoram in joyous cheer.
While many celebrants honor the ancient Persian goddess Mitra during this festival, the holiday generally celebrates light, kindness, and love among all people in Iranian and Persian cultures.
*Note that antimony, a silver-white powder, is considered a harmful substance in other cultures.
3. The Philippines: MassKara Festival – Fourth Sunday of October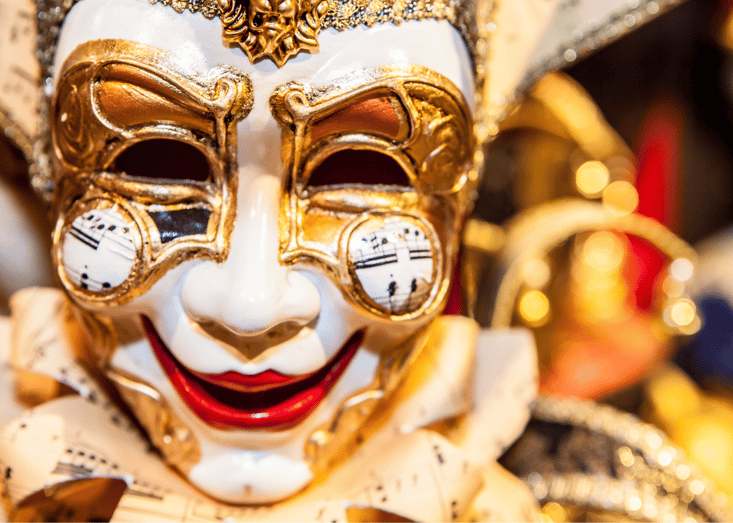 The MassKara Festival is one of the biggest festivals in the Philippines. It is held in Bacolod City, on the Philippine Island of Negros, on the fourth Sunday of every October.
A recent holiday, its origin dates back to 1980, when city officials created the celebration in response to the untimely tragedy of a boating accident that took the lives of 700 people. This festival of Smiles was initiated to lift the spirits of the community and declare that the city would pull through and survive.
The large, vibrant smiling masks worn by people are the focus of this festival – hence its name, MassKara, which is a wordplay of the Spanish term, mascara or mask.
There are numerous exciting MassKara activities such as dance competitions in the streets, street parties open to all, delicious Philippine food like Chicken Inasal (grilled chicken), and festive music that blends Latin beats with Philippine Jazz and traditional folk music.
Along with street events, there is also the star-studded MassKara Queen beauty pageant, which hosts high-profile personalities and renowned dance troupes. Three crowning titles are awarded to the winners of the competition: Miss MassKara Universe, Miss MassKara World, and Miss MassKara International.
4. Mexico: Dia de Los Muertos (Day of the Dead) – November 1-2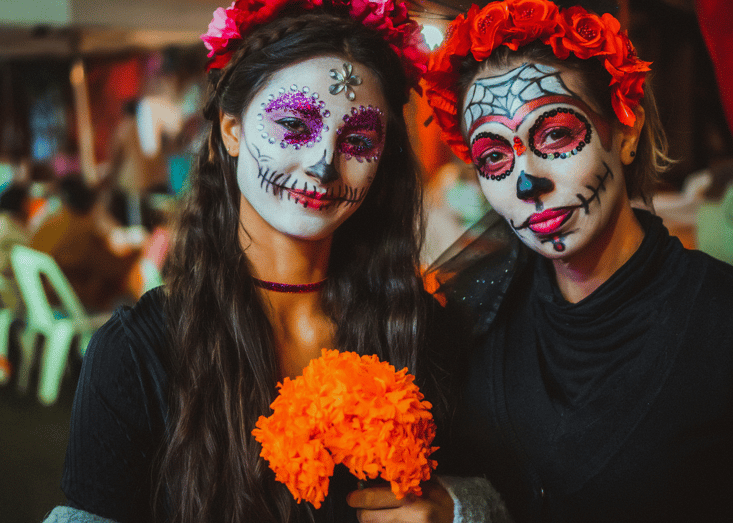 Dia de Los Muertos (Day of the Dead) is a world-renowned Mexican holiday that commemorates deceased loved ones on November 1st and 2nd. The tradition is deeply rooted in ancient Aztec culture but is also blended in with the Catholic All Saints' Day and All Souls' Day celebrations.
The meaning behind Dia de Los Muertos is simple: to remember and respect the dead while also honoring the importance of life.
That's why, during the Day of the Dead festival in Mexico, you'll witness a blend of vibrant colors contrasted with the macabre. Many men and women paint their faces to resemble skulls while also hosting loud parties and parades.
Day of the Dead decorations is a highlight of the tradition. The streets of Mexico are lined with colorful displays of flowers, vendors selling traditional Mexican foods and skull candies, and banner decor.
Many families build home altars in memory of their loved ones who have died. The deceased's favorite foods and drinks, flowers, candles, and clothing (known as ofrendas) are placed around the altar to celebrate their lives.
Along with home altars, gravesites are also decorated, and cemeteries come alive as family members pay tribute to their deceased. In addition to Mexico, Dia de Los Muertos is celebrated throughout Latin America, where it is generally called Dia de Los Fieles Difuntos (All Souls' Day).
5. India: Diwali – October or November (varies by year)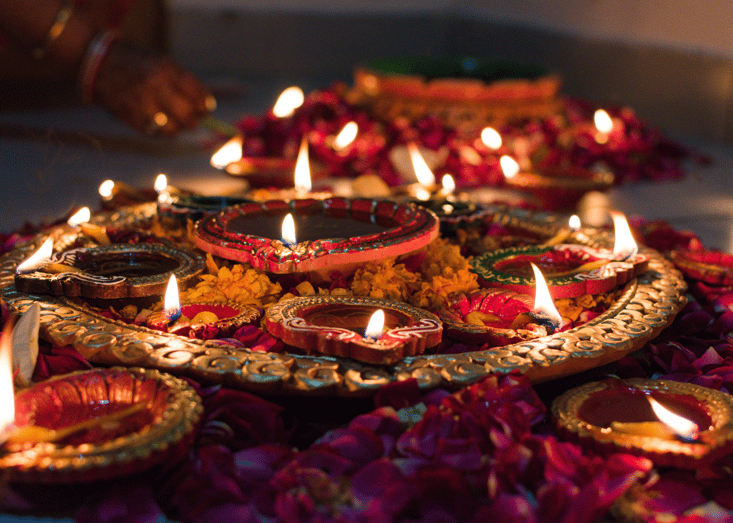 Known as the festival of lights, Diwali is an important religious holiday that's widely observed by Hindus, Jains, and Buddhists in India – and across the world!
This autumn celebration coincides with the Hindu New Year (taking place during the Hindu lunisolar month Kartika) and usually falls in either October or November each year.
For five days, celebrants of Diwali dress in their finest clothes, illuminate their homes with candles, lamps, and lanterns, host large feasts with their loved ones, perform worship of Hindu deities (called pujas), and set off colorful fireworks.
Many observers also light up lanterns and release them into the sky. While there are various Hindu gods and goddesses that are honored during Diwali for different reasons, the basic notion around this celebration is the triumph of good over evil and light overcoming darkness.
Along with the lanterns, celebrants also hang strings of jasmine around their homes and pour colored sand in front of doorways in the shape of lotus flowers as a symbol of welcome.
6. USA, Canada, UK, and Ireland: Halloween – October 31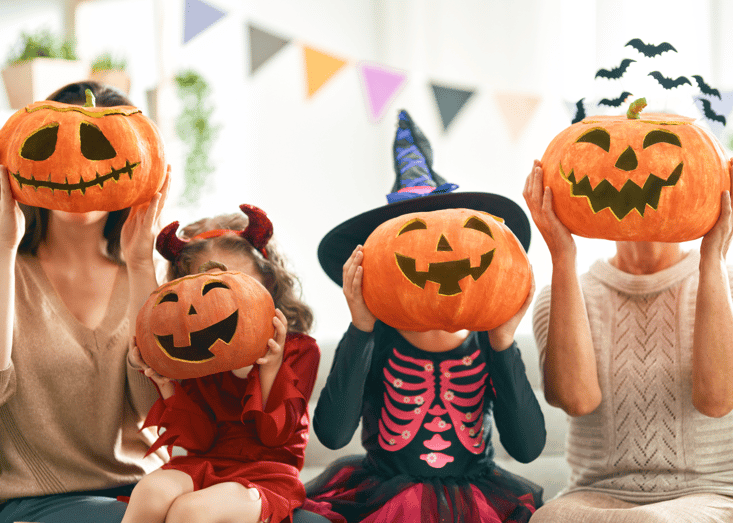 Halloween is a popular autumn holiday in North America and other countries, though it is mostly observed in the United States.
On Halloween, many children wear costumes and go door-to-door asking their neighbors for candy (known as "trick-or-treating"). Those celebrating Halloween may also carve pumpkins, light Jack-o'-Lanterns, explore DIY haunted houses, and watch horror flicks.
In the UK (specifically Scotland), children also dress up in costumes – called "guising" – and visit their neighbors to ask for treats. Trick-or-treating is different in the UK than in the United States – rather than just showing off their costumes, kids are often expected to perform a trick to earn their candy.
Halloween celebrations are almost 2,000 years old, with most historians believing the tradition originated from the ancient Celtic festival of Samhain.
The holiday also has Christian roots since the name Halloween is a shortening of All Hallows' Eve, the first day of Allhallowtide (also called "Hallowmas") to remember deceased loved ones and the day before All Saints' Day.
7. UK: Guy Fawkes Day (Bonfire Night) - November 5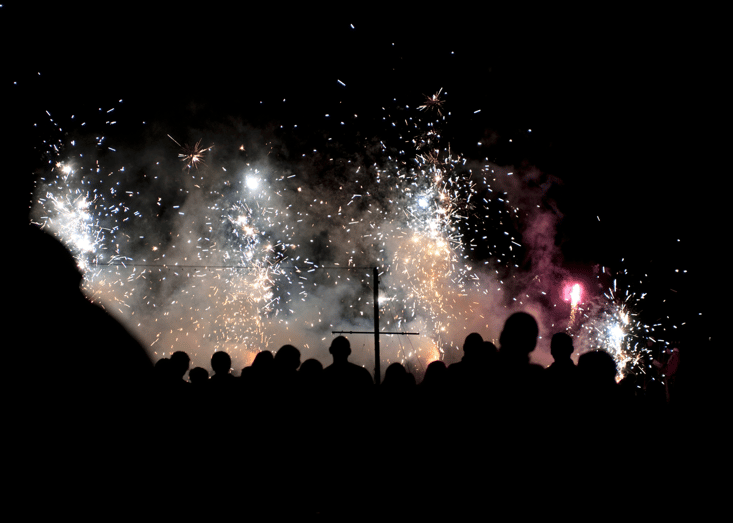 On November 5, many UK residents will gather together to light bonfires and burn effigies of a man on fire – all while celebrating with delicious food and drinks.
Why? Well, November 5th marks the anniversary of Guy Fawkes' failed attempt to kill an English king.
On the fateful day in 1605, Guy Fawkes was one in a group of conspirators caught planning to kill King James I of England. This event was known as the Gunpowder Plot of 1605.
Since then, Guy Fawkes Day (Bonfire Night) has celebrated victory over the failed assassination attempt. It is a public holiday in the UK, and most UK residents celebrate the occasion with bonfires, fireworks, and delicious foods like sausages, baked potatoes, and apples.
Of course, the most well-known part of this autumn tradition is the burning of the effigy, which is meant to represent Guy Fawkes. Many Brits also use the weekend to make the most of their Bonfire Night festivities.
8. Thailand: Loy Krathong – November (date varies)
Every November, a breathtaking autumn festival known as Loy Krathong takes place in Thailand. The holiday, known around the world as "the Lantern Festival", occurs specifically on the full moon of the 12th month of the Thai lunar calendar to honor and thank the goddess of water.
During Loy Krathong, celebrants release krathongs, lanterns made from leaves, into the river or up to the sky. Some people also release their lanterns into lakes and swimming pools as a symbol of hope for new beginnings.
Along with the traditional lanterns, beauty contests, music, and fireworks have become part of the holiday. There are also local competitions for the best-decorated krathongs among government offices and companies.
For many people in Thailand and neighboring countries, Loy Krathong serves as a way to give thanks for the good things in their lives and pray for good luck in the future.
Of course, the festival is extremely popular with visitors, who are always invited to join in by purchasing lanterns or even making their own.
9. Argentina: El Dia de la Tradicion (Tradition Day) – November 10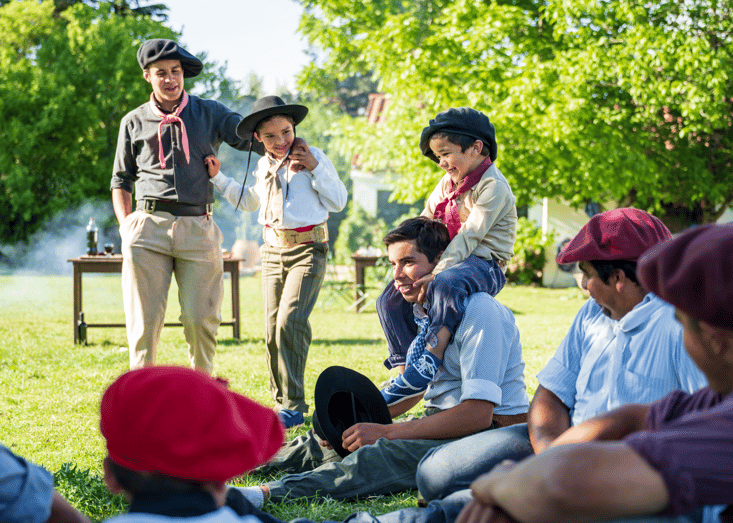 El Dia de la Tradicion, or Tradition Day, occurs after a weekend of fun and excitement for all Argentines. November 10 commemorates traditional Gaucho culture, specifically the birthday of famed 19th-century Argentine poet and gaucho, Jose Hernandez.
A "gaucho" refers to cattle herders in the grasslands of Uruguay and Argentina – similar to US American cowboys. Jose Hernandez is an influential figure in Argentine literature, penning the famous poem, "El Gaucho Martín Fierro" that details the life and adventures of a gaucho.
To celebrate the weekend-long festivities of El Dia de la Tradicion, most Argentines don their finest outfits, host horse parades in their communities, participate in folkloric dances, and enjoy concerts with live music.
Food is also a staple of El Dia de la Tradicion with street vendors selling delicious Argentine sausages, grilled beef, and other treats that cater to all palettes. Overall, this fall celebration is the perfect spectacle of Argentine culture and pride.
10. Japan: Shichi-Go-San – November 15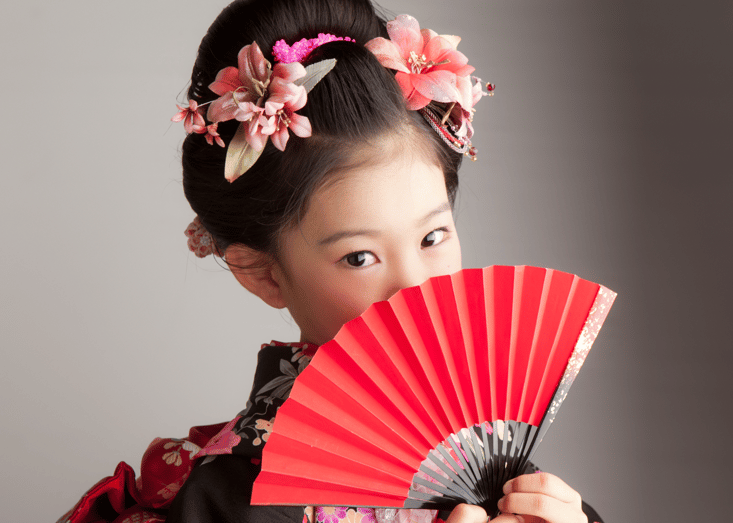 While there are many autumn traditions in Japan, the celebration of Shichi-Go-San is a special occasion that deserves a mention.
Shichi-Go-San, or "Seven-Five-Three", is a traditional rite-of-passage festival that's generally celebrated as a "gala day" for three- and five-year-old boys and three- and seven-year-old girls.
The ages of seven, five, and three are honored in this festival because they're viewed as crucial stages in childhood development. The numbers are also considered lucky in Japanese culture.
On November 15th of every year, children dress in beautiful traditional kimonos (boys wear hakama), pray at Shinto shrines with their families, and take plenty of pictures to mark the occasion.
One of the yummiest traditions of Shichi-Go-San is the "Thousand Year Candy" (called Chitose Ame in Japanese), which the children gladly eat.
The candy has a symbolic meaning behind it – its red and white colors represent longevity and health, and the gift wrapping is decorated with turtle and crane drawings, which represent long life. Consuming the candy is meant to ensure that the child will live a long and happy life.
Across the world, autumn is considered the perfect time for giving thanks, celebrating life, and spending time with loved ones.
While many autumn festivals may have religious or culturally traditional origins, they are now meant for all to enjoy. Make sure you take part in your area's local fall festivities this year.
Check out our blog posts, What is it Like to Move to Europe Now? and Global Mobility Trends in Asia Pacific - Part 1 and Part 2 to learn what the mobility landscape looks like around the world.
About Dwellworks
Dwellworks provides destination services and temporary living solutions for tens of thousands of customers every year. Visit our homepage, learn about our services, and read our blogs to learn how we can help with your relocation.
SHARE THIS