For the northern hemisphere, winter brings cooler temperatures and longer nights. In the southern hemisphere, the weather warms and residents take their vacations to enjoy the extended daylight.
Either way, employees around the world commonly take a few days off work at this time to gather with their loved ones and observe unique cultural customs.
Take a moment to learn about the traditions that your global teammates hold dear and consider celebrating in your own way as you explore other cultures.
Diwali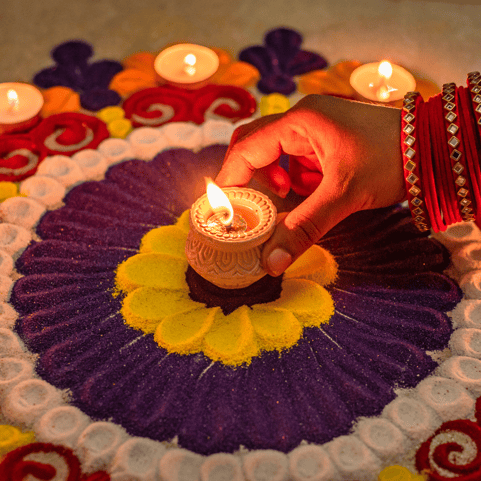 Diwali is an important five-day festival where houses and streets are adorned with colorful lanterns, special gifts are exchanged, religious rituals are performed, and traditional foods are eaten. The holiday is one of the largest and most significant religious celebrations in India.
While many celebrants worship several Hindu deities during the festivities, the central message of Diwali is the triumph of light over darkness and knowledge over ignorance.
The largest Diwali celebrations take place in India, but it is also observed by Hindus all over the world. Click here to learn more about how Diwali is celebrated worldwide. Diwali varies by date each year but is usually celebrated in October or November.
Saint Lucy's Day
Due to the northern location of Scandinavia, countries like Sweden, Norway, and Denmark only have a few precious hours of daylight in the winter. The sun rises close to 9:00 in the morning and sets around 3:00 in the evening. During these brutal winter months, a warm, bright celebration to look forward to is Saint Lucy's Day.
On December 13th, Scandinavian families honor Sankta Lucia (Saint Lucy), a young Roman Christian martyr and saint, affectionately known as the "Queen of Light." Children sing songs while dressed in white gowns. Boys carry stars and girls wear a crown of lit candles with a red sash.
Traditionally, for each local festival, one girl is chosen to portray Saint Lucy and leads a church procession of women, all of whom hold candles and sing songs about the titular saint. As part of the Saint Lucy's Day traditions, the eldest daughter will bring her family saffron buns (called Lussekatt or St. Lucy Buns) and coffee. This holiday is also celebrated in Italy, Estonia, Croatia, and among Scandinavian Americans in the United States.
Hanukkah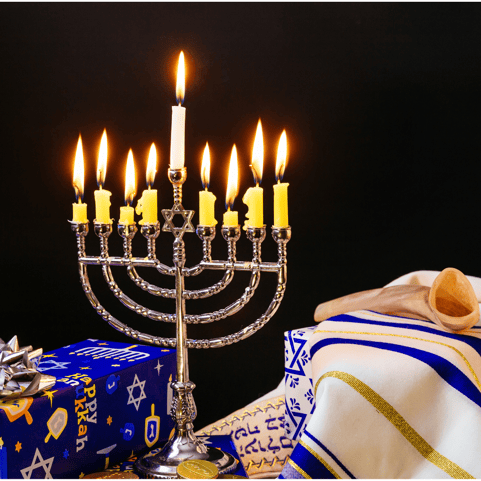 Hanukkah (or Chanukah) is the eight-day festival of lights that celebrates the miracles of the faithful Jews as they reclaimed the Holy Temple in Jerusalem in Biblical times. In 2022, the Hanukkah festivities begin on the evening of December 18 and end on December 26.
At the center of this celebration is the menorah. Every night, families gather together to light a candle for each day of the holiday. The menorah is usually placed in a window or doorway to let others know about the joy of this holiday.
Families also pray, give gifts, and eat traditional Jewish foods including latke (potato pancakes) and sufganiyot (jelly-filled donuts).
Christmas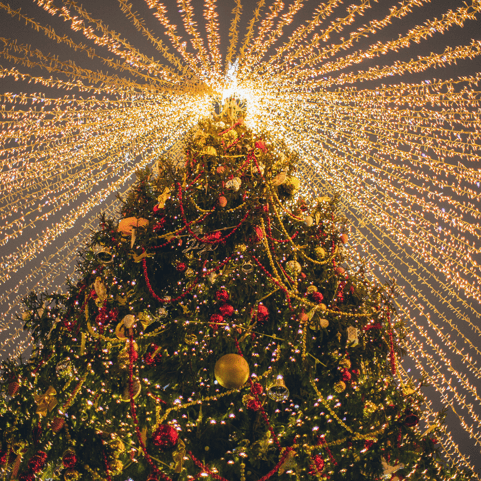 Christmas is observed on December 25th in various countries all over the world. Although the celebration has adopted several traditions (both religious and secular in nature), Christmas commemorates the birth of Jesus Christ, the central figure in the Christian faith.
Christmas festivities include gift-giving, decorating Christmas trees, lighting candles on an Advent wreath, singing Christmas songs, attending religious services, and feasting with loved ones.
In addition to these customs, religious and mythical figures such as Santa Claus, Saint Nicholas, and Father Christmas are associated with gift-giving, especially to young children. Each of these figures has its own legends and set of traditions.
Kwanzaa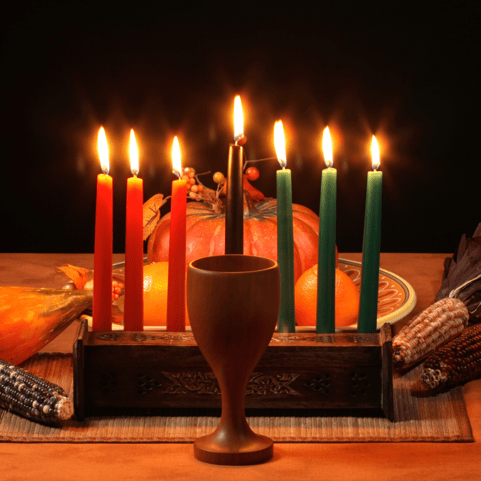 Kwanzaa is the yearly holiday that commemorates African American culture. Kwanzaa celebrations last for one week from December 26 to January 1st. Although the holiday started in the United States, Kwanzaa is observed worldwide by people of African descent.
During the celebration, stunning pieces of African art are chosen to decorate the home and represent the beauty of African culture. Other traditions include lighting a Kinara (a candle holder with seven candles), enjoying delicious traditional foods, and donning African attire.
The holiday name comes from a Swahili phrase that refers to the first harvest. Kwanzaa is a cultural celebration, not a religious one. As such, it brings together people from different religious backgrounds to honor their common African heritage, community, and families.
New Year's Day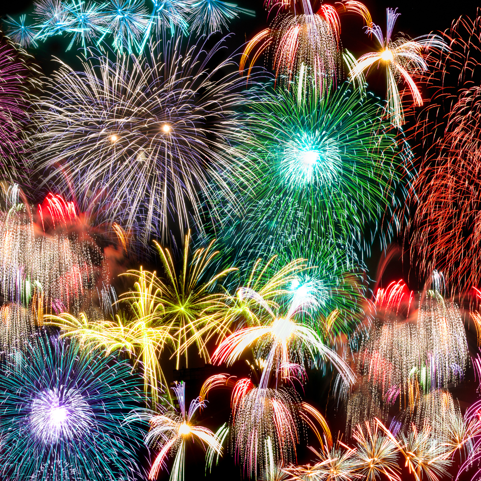 For those who observe the Gregorian calendar, January 1st is the first day of the New Year. When the clock strikes midnight in each time zone, the New Year is welcomed with fireworks and happy greetings over a period of 24 hours.
Most people begin celebrating the new year on New Year's Eve (December 31) and continue the festivities into the early hours of January 1st. Many families gather with their loved ones, host large feasts and fun parties, watch fireworks, and promise to make new resolutions for the upcoming year.
Many cultures worldwide also consume specific New Year's foods to welcome success, prosperity, or the granting of a wish in the new year. In Spain and other Spanish-speaking countries, for instance, many celebrants eat 12 grapes before midnight, each representing a wish for the 12 months of the new year.
In the United States, black-eyed peas and legumes (which are thought to resemble coins) are eaten to enjoy financial success. Other cultures consume pork, traditional pastries, and rice pudding in the hope of prosperity and the fulfillment of wishes.
Epiphany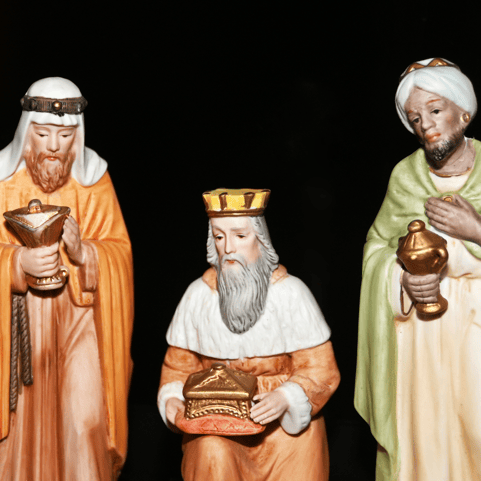 The feast of the Epiphany (or Three Kings Day) is an important Christian holiday that falls on January 6. The celebration takes place 12 days after Christmas and is meant to mark the end of the Christmas season. Under Greek and Russian Orthodox tradition, this day is the observance of Christmas.
During Epiphany, Christians honor the visit of the three kings (also called the Wise Men or the Three Magi) to baby Jesus in the manger and celebrate the revelation of God taking human form.
Epiphany customs are observed differently by Christians worldwide. Most festivities include singing traditional songs, eating Three Kings Cake, attending religious services, and having children's shoes filled with small gifts from the three kings.
Lunar New Year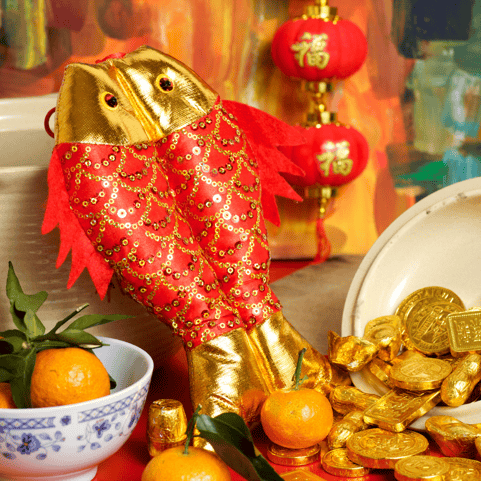 Lunar New Year is a celebration that's observed by various cultures around the world, including Chinese, Vietnamese, Korean, and other Asian communities. To welcome the New Year, families clean their houses, perform religious rituals to honor household deities, and prepare delicious feasts.
Dumplings are a staple during Lunar New Year festivities. Many celebrants also eat long noodles to represent a long and well-lived life. There are lots of dancing and fireworks, and older and younger family members receive red envelopes with money.
The Lunar New Year festivities culminate with the Lantern Festival, which is observed on the 15th day of the first month of the lunar calendar. It is also the day when families honor their deceased loved ones and ancestors. People typically decorate their homes with vibrant lanterns, eat traditional rice balls, and enjoy local parades.
Since the holiday is based on the lunar calendar, alternates annually between January to February. Each year is dedicated to one of the 12 zodiac animals in Asian folklore. 2023 will be the Year of the Rabbit.
These eight holidays are celebrated by billions of people around the world. There are many other winter celebrations sacred to other cultures. For example, consider:
This blog provides only a glimpse into these rich cultural celebrations. If your global team has winter customs that differ from your own, take the opportunity to begin a cultural dialogue as you learn more. To dive further into international communication, visit our Global Workforce Development page to learn how you can grow your team's successes.
---
If you're curious about celebrations across cultures as you learn how to be an effective cross-cultural communicator, check out a few of our other blogs:
About Dwellworks
Dwellworks provides destination services and temporary living solutions for tens of thousands of customers every year. Visit our homepage, learn more on our services page, and read our blogs to learn how we can help with your corporate relocation and business travel needs.
SHARE THIS